Modern Flights: Where Next? (Curious Science) (Paperback)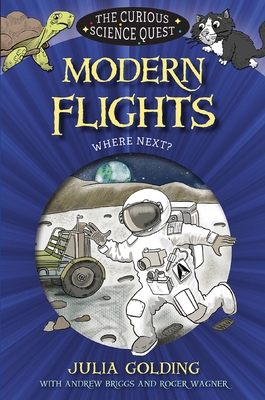 Description
---
Join Harriet, Darwin's pet tortoise, and Milton, Schrodinger's indecisive cat on a time-travelling quest of discovery, unravelling scientific exploration and religious beliefs and how they fit together.
Throughout the centuries humans have been looking for answers to BIG questions - how did the universe start? Is there a God behind it? Has science explained away the need for a God, or can faith enhance scientific discovery?
Take to the skies in this adventure and zoom off into space , exploring the scientific discoveries of the technological age. Step into Harriet and Milton's time machine, bring some snacks, and enjoy this curious quest of discovery.
Written by Julia Golding, winner of the Waterstones Children's Book Prize 2006, and the Nestle Smarties Book Prize 2006.
About the Author
---
Julia Golding is a multi-award winning children's author who has been awarded both the Waterstones Children's Book Prize and the Nestlé Smarties Book Prize. A former British diplomat and Oxfam policy adviser, Golding also has a doctorate in English Literature from Oxford University, and was writer-in-residence at the Royal Institution in 2019. An avid Jane Austen fan, her Jane Austen-themed podcast 'What Would Jane Do?' offers a 19th century take on modern life. Golding is the successful author of The Curious Science Quest series, The Tigers in the Tower and Jane Austen Investigates.
Andrew Briggs is Professor of Nanomaterials in the Department of Materials at the University of Oxford. He is best known for his early work in acoustic microscopy, and his current work in materials for quantum technologies. He is co-author of The Penultimate Curiosity. Roger Wagner is a prolific artist and author, with works spanning three decades. He works across many creative genres, including portrait, illustrated books, and stained glass. He is co-author of The Penultimate Curiosity. Brett Hudson attended the University of Southampton and now works as a freelance artist and book illustrator. He has worked for a variety of publishers including Collins and Barrington Stoke. His book Friday Forever won the Portsmouth Book Award. He has also worked for Marks and Spencers greetings cards. Brett is based in Sussex and sells watercolours and acrylic paintings in gift shops, restaurants and on social media.