Tabbed Board Books: My First Colors: Let's Learn Them All! (My First Tabbed Board Book) (Board book)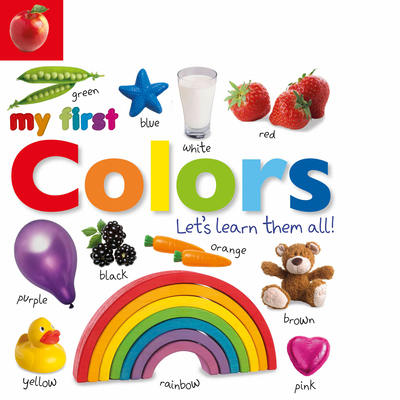 Description
---
Welcome to the wonderful world of color! This charming first color book will encourage your child to identify colors by name using engaging everyday objects.

Red, blue, orange and yellow - There are lots of bright colours to name and count in this pre-school book!. Read it together and help your child develop early speaking, listening, and observation skills.


This engaging board book is perfect for early preschool learning. The bold, color-themed pages and bright illustrations will get your kids thinking and talking. Red, yellow, orange, blue, silver, green or multi-colored. You name it! All the bright, beautiful colors are here. 

This educational book has strong board pages made especially for young children. The chunky tabs, on the top or the side, are easy to grab to help with early motor control. Preschoolers will quickly recognize the colorful objects on the tab, which will take them straight to the page with their favorite color.

Each page is dedicated to different colors and objects of the same color, like green broccoli and a multi-colored rainbow. There are easy-to-read labels so your little one can sound out the words with you. Packed with fun-filled questions and activities, your child will also enjoy the "I-spy" colors, shapes and patterns page. 

Learn All the Colors of the Rainbow!


   • Fun, color-themed pages with bright, clear illustrations
   • Chunky tabbed pages to improve dexterity 
   • Easy-to-read text with names and descriptions to encourage language development


More from DK Books: 

Because toddlers are experiencing lots of things for the first time, we've made lots of My First tabbed board books! Look below for other great titles including My First Zoo, My First Busy Job, My First Farm, and My First Town.