Ghost Towns of Route 66 (Hardcover)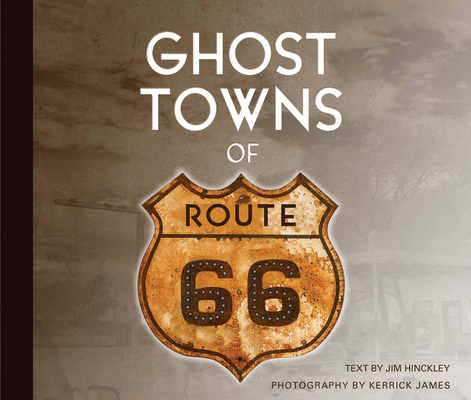 This item is not available.
Description
---
Ghost towns lie all along the Mother Road. The quintessential boom-and-bust highway of the American West, Route 66 once hosted a thriving array of boom towns built around oil wells, railroad stops, cattle ranches, resorts, stagecoach stops, and gold mines. Join Route 66 expert Jim Hinckley as he tours more than 25 ghost towns, rich in stories and history, complemented by gorgeous sepia-tone and color photography by Kerrick James. Also includes directions and travel tips for your ghost-town explorations along Route 66.
Explore the beauty and nostalgia of these abandoned communities along America's favorite highway!
About the Author
---
Jim Hinckley is the author of twenty books and hundreds of feature articles on Route 66, the American Southwest, and the American auto industry. He has been a featured speaker at European Route 66 festivals in Germany and the Czech Republic, and at events in the United States and Canada. Hinckley is a former associate editor for Cars & Parts, and currently writes a monthly feature for New Zealand-based MotoringNZ. He also assists with the creation of visitor guides for communities such as Tucumcari, New Mexico, and the development of historic district walking tours. Jim is the creator of the Jim Hinckley's America network that includes a website (jimhinckleysamerica.com/), social media, the weekly livestream "Coffee with Jim" program, a YouTube channel, and the "Wake Up with Jim" podcast. Linked with this are community education programs developed to foster an increased awareness of an area's history and its role in the development of tourism as a component in economic development.
Kerrick James has been a professional photographer for more than twenty years. He specializes in travel imagery, and he is a regular contributor to Arizona Highways, Sunset, National Geographic Adventure, and Alaska Airlines Magazine. He lives in Mesa, Arizona.