The Implicit Norms of Rabbinic Judaism: The Bedrock of a Classical Religion (Studies in Judaism) (Paperback)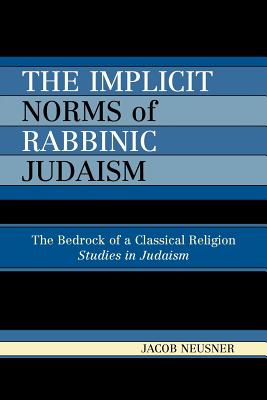 This item is not available.
Description
---
Implicit norms of law and theology governed in Rabbinic Judaism from the onset of its canon in the Mishnah (concluded at ca. 200) to its climax in the Talmud of Babylonia four centuries later. These norms of conviction and conception prevailed in a complete system, which was logically present, if not fully realized, from the very beginning of the canon. Norms of belief, not only behavior, governed in the canonical documents of Rabbinic Judaism and defined its orthodoxy and its heterodoxy. This book proves that proposition by asking, what are the theological premises of the documents upon which the Rabbinic canon was built and do these premises cohere in a tight theological system? The Implicit Norms of Rabbinic Judaism answers this question by identifying the principles that had to govern in order for a given composition to be articulated or a particular composite to be assembled. Those premises at the foundations of the canonical documents prove not episodic, but coherent. The documents speak, so it is universally maintained, for the community of the Rabbinic sages that sponsored them. Hence the premises and presuppositions of a document represent the consensus of the Rabbinic sages: the implicit norms of attitude and action. Canonical orthodoxy and heresy come to definition in those norms. How individuals conformed, and what institutions functioned to enforce conformity, do not figure into this account. It suffices to show that orthodoxy and heresy constituted native categories of the Rabbinic system of thought inherent in principal documents of the canon.
About the Author
---
Jacob Neusner is Research Professor of Theology and Senior Fellow of the Institute of Advanced Theology at Bard College. He is also a Member of the Institute for Advanced Study, Princeton, New Jersey, and Life Member of Clare Hall at Cambridge University, England. He has published numerous books with University Press of America on Jewish studies, in particular Rabbinic Judaism.