Six Months, Three Days, Five Others (Hardcover)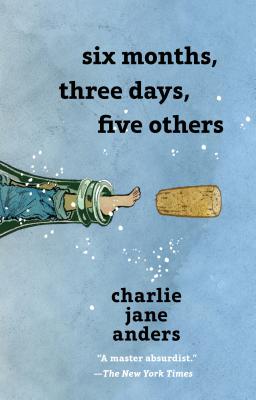 Description
---
"A master absurdist...Highly recommended." —The New York Times

Before the success of her debut SF-and-fantasy novel All the Birds in the Sky, Charlie Jane Anders was a rising star in SF and fantasy short fiction. Collected in a mini-book format, here—for the first time in print—are six of her quirky, wry, engaging best:

In "The Fermi Paradox Is Our Business Model," aliens reveal the terrible truth about how humans were created—and why we'll never discover aliens.

"As Good as New" is a brilliant twist on the tale of three wishes, set after the end of the world.

"Intestate" is about a family reunion in which some attendees aren't quite human anymore—but they're still family.

"The Cartography of Sudden Death" demonstrates that when you try to solve a problem with time travel, you now have two problems.

"Six Months, Three Days" is the story of the love affair between a man who can see the one true foreordained future, and a woman who can see all the possible futures. They're both right, and the story won the 2012 Hugo Award for Best Novelette.

And "Clover," exclusively written for this collection, is a coda to All the Birds in the Sky, answering the burning question of what happened to Patricia's cat.
About the Author
---
Charlie Jane Anders is the author of Victories Greater Than Death, the first book in the young-adult Unstoppable trilogy, along with the short story collection Even Greater Mistakes. Her other books include The City in the Middle of the Night and All the Birds in the Sky. Her fiction and journalism have appeared in The New York Times, The Washington Post, Slate, McSweeney's, Mother Jones, the Boston Review, Tor.com, Tin House, Conjunctions, Wired Magazine, and other places. Her TED Talk, "Go Ahead, Dream About the Future" got 700,000 views in its first week. With Annalee Newitz, she co-hosts the podcast Our Opinions Are Correct.
Praise For…
---
"Charlie Jane Anders is ridiculously brilliant." —Rachel Swirsky, Locus

Praise for All the Birds in the Sky

"The very short list of novels that dare to traffic as freely in the uncanny and wondrous as in big ideas—I think of masterpieces like The Lathe of Heaven; Cloud Atlas; Little, Big—has just been extended by one."—Michael Chabon

"Genius."—Margaret Cho

"A glorious synthesis of magic and technology, joy and sorrow, romance and wisdom. Unmissable."—Lev Grossman, author of The Magicians

"As hopeful as it is hilarious...Highly recommended."—N. K. Jemisin, The New York Times Book Review

"Charlie Jane Anders has entwined strands of science and fantasy...into a luminous novel that reveals the exhilarating necessity of each."—John Hodgman, author of The Areas of My Expertise

"An instant classic….Like the work of other 21st century writers—Kelly Link and Lev Grossman come immediately to mind—All the Birds in the Sky serves as both a celebration of and corrective to the standard tropes of genre fiction." —Elizabeth Hand, Los Angeles Times

"Everything you could ask for in a debut novel—a fresh look at science fiction's most cherished memes, ruthlessly shredded and lovingly reassembled." —Cory Doctorow, Boing Boing

"Imagine that Diana Wynne Jones, Douglas Coupland and Neil Gaiman walk into a bar and through some weird fusion of magic and science have a baby. That offspring is Charlie Jane Anders' lyrical debut novel All the Birds in the Sky." —Independent

"The scenario is (almost) Harry Potter, the tone is (quite like) Kurt Vonnegut, the effect is entirely original." —The Wall Street Journal