The Moments with Jesus Encounter Bible: 20 Immersive Stories from the Four Gospels (Hardcover)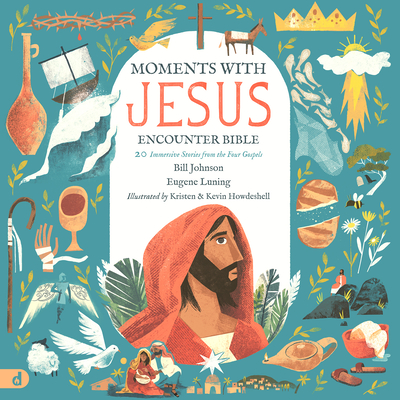 $19.99

Usually arrives at our store within 4-7 days
Description
---
Let Jesus capture your child's imagination
If you are looking for a resource to help introduce your child to Jesus, look no further. The Moments with Jesus Encounter Bible was designed to help kids encounter Him for themselves
What makes the Moments with Jesus Encounter Bible different from other children's Bibles?
While other children's Bibles contain informative stories from the Old and New Testaments, the Moments with Jesus Encounter Bible puts kids in the middle of the action of twenty essential stories from the four Gospels. Through dynamic, first-hand storytelling, kids come face to face with the Living Word Himself, getting a clear picture of who Jesus is, what He is like, and His love for them personally.
A powerful resource for every parent, grandparent, pastor or teacher, the Moments with Jesus Encounter Bible...
Introduces kids to the living Jesus who knows and loves them.
Captures children's imagination with 20 stories from the Gospels.
Illustrates Jesus' nature and character as revealed in Scripture.
Cultivates a personal connection with Jesus Himself.
Invites kids into a thrilling, life-long adventure with God.
Empowers children to actively engage with Scripture.
Offers insightful discussion questions to promote parent-child dialogue.
Is the perfect Bible for children ages 4-12.
The Moments with Jesus Encounter Bible combines masterful storytelling with captivating artwork to create an imaginative, biblical encounter like no other. Presented in a simple, beautiful format, the Moments with Jesus Encounter Bible will help you shepherd your kids into a thriving, dynamic relationship with Jesus.
What are you waiting for? Start your adventure today
About the Author
---
Bill Johnson is a fifth-generation pastor with a rich heritage in the Holy Spirit. Bill and his wife, Beni, are the senior leaders of Bethel Church in Redding, California, and serve a growing number of churches that cross denominational lines, demonstrate power, and partner for revival. Bill's vision is for all believers to experience God's presence and operate in the miraculous--as expressed in his bestselling books When Heaven Invades Earth and Hosting the Presence. The Johnsons have three children and eleven grandchildren. Eugene Luning directs The Union, a ministry within the New Horizons Foundation, which exists for teaching, retreats, podcasting and spiritual counseling in Colorado and around the country. Additionally, he is the cofounder of a real estate technology company, Panoramiq Markets Inc. Eugene and his wife Jenny are the parents of three children, Hadley, Tripp and Hoyt. They live in Colorado Springs, Colorado, where they also lead a weekly fellowship, The Anchor.