Superfan: How Pop Culture Broke My Heart: A Memoir (Paperback)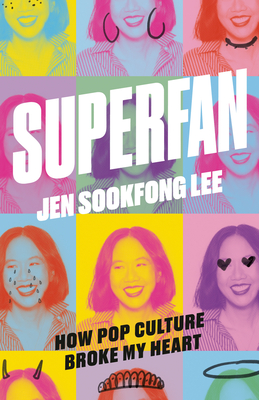 Description
---
A TODAY Show Recommended Read, this beautifully intimate memoir-in-pieces uses one woman's life-long love affair with pop culture as a revelatory lens to explore family, identity, belonging, grief, and the power of female rage. Named a most anticipated book of the year by the Globe and Mail and the Toronto Star.

For most of Jen Sookfong Lee's life, pop culture was an escape from family tragedy and a means of fitting in with the larger culture around her. Anne of Green Gables promised her that, despite losing her father at the age of twelve, one day she might still have the loving family of her dreams. Princess Diana was proof that maybe there was more to being a good girl after all. And yet as Jen grew up, she began to recognize the ways in which pop culture was not made for someone like her—the child of Chinese immigrant parents who looked for safety in the invisibility afforded by embracing model minority myths.

Ranging from the unattainable perfection of Gwyneth Paltrow and the father-figure familiarity of Bob Ross, to the long shadow cast by The Joy Luck Club and the life lessons she has learned from Rihanna, Jen weaves together key moments in pop culture with stories of her own failings, longings, and struggles as she navigates the minefields that come with carving her own path as an Asian woman, single mother, and writer. And with great wit, bracing honesty, and a deep appreciation for the ways culture shapes us, she draws direct lines between the spectacle of the popular, the intimacy of our personal bonds, and the social foundations of our collective obsessions.
About the Author
---
JEN SOOKFONG LEE was born and raised in Vancouver's East Side, and she now lives with her son in North Burnaby. Her books include The Conjoined, nominated for International Dublin Literary Award and a finalist for the Ethel Wilson Fiction Prize, The Better Mother, a finalist for the City of Vancouver Book Award, The End of East, The Shadow List, and Finding Home. Jen acquires and edits for ECW Press and co-hosts the literary podcast Can't Lit.
Praise For…
---
"[Superfan] is a dazzling, kaleidoscopic memoir, written with a surprising candour and a stylistic looseness that allows the narrative to shift and change, often without warning, but never leaving the reader behind.[…]Superfan as a whole [is] a bravura performance: free-ranging and allusive, but tightly controlled; spanning multiple decades but firmly rooted in individual moments. It's heady, thought-provoking, and emotionally fraught stuff, and a singular reading experience."—Toronto Star

"By peeling back the layers of her own life as a Chinese Canadian woman willing to defend the pleasures of watching the Kardashians, Lee reveals the complexities of our broader culture and its limitations. Expect that through this book Lee will find her own superfans."—Quill and Quire

"Superfan is a book you will want to simultaneously hug close to your chest and press insistently into others' hands. There is such honesty, intelligence, warmth, and vulnerability to these essays that, when you finally put them down, you'll feel breathless—a little sad it's over, but ultimately full, invigorated, as if you've just ended an evening of deep, intimate conversation with your best friend. It takes a rare talent to pull this feat off—and Jen Sookfong Lee is that talent. I love this book." 
—Alicia Elliott, author of A Mind Spread Out on the Ground

"Superfan is about how deeply and, sometimes, disappointingly personal pop culture can be, even and especially for those of us for whom it's not made. As she explores her identity through the books, movies, and movie stars who accompanied her along the path of self-discovery, Jen Sookfong Lee has written a memoir that is gorgeous and ugly, generous and petty, wild and self-conscious. In the process, she defiantly claims the right to be the good girl, the bad girl, and all the transitions in between. A thoughtful and exhilarating and brave self-portrait of a woman demanding to be seen and who, at long last, is able to see herself."  
—Elaine Lui, author of Lainey Gossip and Listen to the Squawking Chicken

"Superfan vividly brings to life the joys and despair of obsessing over pop culture—both, feeling seen by it and being deeply hurt by it. Lee's insights are devastating and tender, hilarious and profound. Superfan's introspective meditations on familiar pop culture moments effortlessly turn them into relatable and heartbreaking vignettes. You know that thing when a scene in a movie destroys you, and you have to spend a week reassembling your life, but you don't know why? Lee has done the work to figure out why, and her writing about it is so vulnerable it might destroy you too." 
—Elamin Abdelmahmoud, author of Son of Elsewhere
 
"Superfan is an extraordinary work of personal memoir and pop cultural criticism. Lee's exploration of pop culture's impact on her as a child of Chinese immigrants is brilliant, absurd, and heartbreaking, and she shares her stories with so much warmth and generosity that by the end you will feel like her best friend. Each chapter had me laughing out loud and underlining her provocative takes on subjects like 90s heartthrobs, Gwyneth Paltrow, and the Kardashians. Eye-opening and luminous and so much fun!" 
—Heather O'Neill, author of When We Lost Our Heads
 
"Superfan is a fresh reclamation of pop culture from an unexpected and exciting perspective. By juxtaposing her everyday life as an Asian woman with those of iconic TV characters and popstars, Jen Sookfong Lee spotlights how pop culture can be a mirror in which to both see and not see yourself, a gateway to somewhere else and a reminder of how stuck you are. It's this complexity that makes Superfan a fantastic read!" 
—Vivek Shraya, author of How to Fail As a Popstar and People Change