Eastern Passage (Paperback)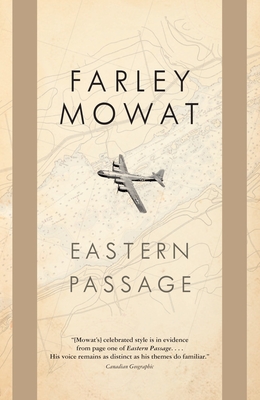 Description
---
Following Farley Mowat's bestselling memoir, Otherwise, the literary lion returns with an unexpected triumph.

Eastern Passage is a new and captivating piece of the puzzle of Farley Mowat's life: the years from his return from the north in the late 1940s to his discovery of Newfoundland and his love affair with the sea in the 1950s. This was a time in which he wrote his first books and weathered his first storms of controversy, a time when he was discovering himself through experiences that, as he writes, "go to the heart of who and what I was" during his formative years as a writer and activist.

In the 1950s, with his career taking off but his first marriage troubled, Farley Mowat buys a piece of land northwest of Toronto and attempts to settle down. His accounts of building his home are by turns hilarious and affecting, while the insights into his early work and his relationship with his publishers offer a rare glimpse into the inner workings of a writer's career.

But in the end, his restless soul could not be pinned to one place, and when his father offered him a chance to sail down the St. Lawrence, he jumped at it, not realizing that his journey would bring him face to face with one of Canada's more shocking secrets – one most of us still don't know today. This horrific incident, recalling as it did the lingering aftermath of war, and from which it took the area decades to recover, would forge the final tempering of Mowat as the activist we know today.

Eastern Passage is a funny, astute, and moving book that reveals that there is more yet to this fascinating and beloved figure than we think we know.
About the Author
---
FARLEY MOWAT was born in Belleville, Ontario, in 1921. He served in World War II from 1940 until 1945, entering the army as a private and emerging with the rank of captain. He began writing for his living in 1949 after spending two years in the Arctic. Since 1949 he has lived in or visited almost every part of Canada and many other lands, including the distant regions of Siberia. He remains an inveterate traveller with a passion for remote places and peoples. He has forty-two books to his name, which have been published in translations in over fifty languages in more than sixty countries. They include such internationally known works as People of the Deer, The Dog Who Wouldn't Be, Never Cry Wolf, Westviking, The Boat That Wouldn't Float, Sibir, A Whale for the Killing, The Snow Walker, And No Birds Sang, and Virunga: The Passion of Dian Fossey. With sales of nearly 20 million copies worldwide, he is one of Canada's most successful writers. His short stories and articles have appeared in The Saturday Evening Post, Maclean's, Atlantic Monthly, and other magazines. He died in 2014.
Praise For…
---
"For admirers of Farley Mowat – and we are legion – this is a necessary work." —Globe and Mail

"An insightful narrative that elucidates Mowat's past." —Quill and Quire

"[Mowat's] celebrated style is in evidence from page one." —Canadian Geographic

"Thoreau-esque at times. . . . The prose is effortless and entertaining." —Telegraph-Journal