The Legacy, Vol. 1:: Matthew, Ebrews, James, Jude, Paperback, Comfort Print (Eternity #1) (Mass Market Paperbound)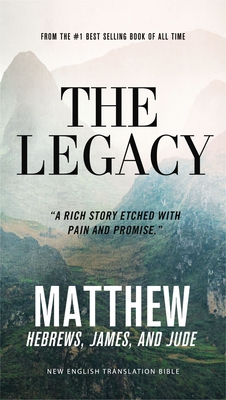 $9.99

Usually arrives at our store within 4-7 days
Description
---
The Promised One arrived. But the man they'd been looking for looked nothing like they--or anyone else--expected, and now they have to face the consequences.
The Legacy includes four books of the New Testament: Matthew, Hebrews, James, and Jude, all written from the perspective of Jesus' own community and family. He shook up their worlds, and he is still doing it today.
Eternity Now reveals the history-shaping story of how Jesus Christ changed the world and what that means to you. This reader-friendly series presents the New Testament books across five paperback volumes to make it easy to carry anywhere and read anytime.
Volume 1: The Legacy--Matthew, Hebrews, James, Jude
Volume 2: No Going Back--Mark, 1-2 Peter
Volume 3: Grand Tour--Books of Luke: Luke, Acts
Volume 4: Death to Life--Books of Paul: Romans, 1-2 Corinthians, Galatians, Ephesians, Philippians, Colossians, 1-2 Thessalonians, 1-2 Timothy, Titus, Philemon
Volume 5: Now But Not Yet-- Books of John: John, 1-3 John, Revelation