Railroads Across North America: An Illustrated History (Hardcover)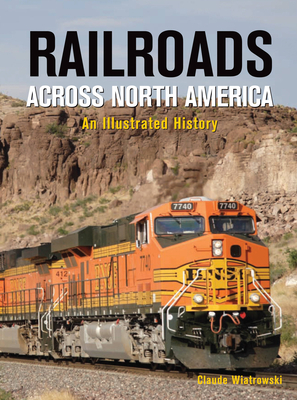 Description
---
In this lavish celebration of the glory and grandeur that are the great North American railroads, author Claude Wiatrowski examines the development of the industry with nearly 90 features covering more than three dozen railroads past and present, as well as dozens more subjects, including railroads in film and music, specialty railroads, life and travel on the rails, and much more.
Wiatrowski, a rail author and award winning video producer, generously illustrates the text with an array of material, including vintage black and white and modern color photographs, period advertisements, maps, brochures, timetables, postcards, posters, menus, and other collectibles--nearly 600 pieces in all, many of them rarely seen!  Also included are a list of Web resources and contact information for museums, preserved railways, and historic sites throughout the United States and Canada.
About the Author
---
Claude Wiatrowski has been writing or providing photos for books on Colorado history for 25 years. His published works include Railroads of Colorado, Railroads Across North America, The Cripple Creek & Victor Book, and Teller County Colorado; he was also the photographer for Man in the Garden of the Gods and Colorado's Black Canyon. In addition to writing books, Wiatrowski also produces videos on historic railroads. His productions have won Telly and Teddy awards, and one was selected for the Library of Congress Local Legacies Program.