My First Book of Bible Stories (Hardcover)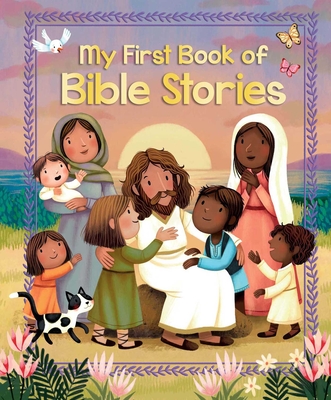 Description
---
This 72-page beautifully illustrated book of Bible stories covers the creation of the world to Jesus' resurrection. Each Bible story is told in child-friendly language to help make God's Word come alive for young readers.

When God said, "Let there be light!" that was just the beginning. Inside this beautifully illustrated book, kids will read about the Creation; Moses; David and Goliath; Jesus' birth, teachings, and resurrection; and many other beloved Bible stories. The stories are the perfect length for reading at bedtime, or any time! A pretty ribbon is bound into the spine to use as a bookmark.
About the Author
---
Lori C. Froeb began her career in publishing right out of college at Reader's Digest world headquarters in Pleasantville, New York. She landed a dream job as an editor for Reader's Digest Children's Publishing (now Studio Fun International) and worked on licensed, nonfiction, craft, and religious novelty books for 22 years. Following her time at Studio Fun, Lori took a road trip across the U.S. and, upon her return home, decided to enter the exciting world of freelancing. Today, Lori works as an independent children's book editor and writer with more than 200 authored titles under her belt. In her free time, she is an avid photographer, hiker, and traveler who lives with her morkie Frodo in the Hudson Valley, New York.