A Sea of Troubles: A Commissario Guido Brunetti Mystery (Paperback)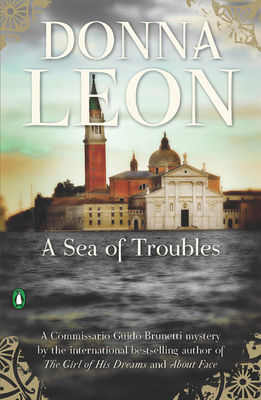 Other Books in Series
This is book number 10 in the Commissario Guido Brunetti Mystery series.
Description
---
Donna Leon has amassed devoted fans around the world for her atmospheric and intelligent Commissario Guido Brunetti mysteries. A Sea of Troubles, the tenth book in the series, offers a rare glimpse into the scrupulous Commissario's personal life. On a beautiful spring morning on the island of Pellestrina, south of the Lido on the Venetian lagoon, a small boat moored at the docks suddenly explodes, killing two local clam fishermen. When it becomes clear that the fire was deliberately set, Brunetti decides to investigate. But when he tries to dig up information about the murder, the island's tight-knit--and closemouthed--community closes ranks, forcing Brunetti to accept Signorina Elettra's offer to visit her relatives there to search for clues. On the island, Brunetti finds himself torn between his duty to solve the murders and his concerns for the Signorina's safety. Though loyal to his beloved wife, Paola, Brunetti's concern for his boss's spirited secretary may be driven by more than platonic feeling. Suspenseful, provocative, and deeply unsettling, A Sea of Troubles is an explosive and irresistible installment in Leon's marvelous series.
About the Author
---
Donna Leon, born in New Jersey in 1942, has worked as a travel guide in Rome and as a copywriter in London. She taught literature in universities in Iran, China, and Saudi Arabia. Commissario Brunetti made her books world-famous. Donna Leon lived in Italy for many years, and although she now lives in Switzerland, she often visits Venice.