Means of Grace: A Year of Weekly Devotions (Hardcover)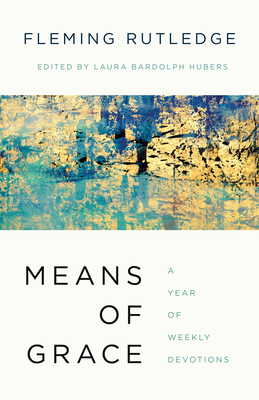 Description
---
"I bring you news of a living reality that changes everything. Jesus has come; Jesus will come. Whatever your own personal darkness, it has been and will be overcome."
Means of Grace is a weekly devotional culled from the sermons of beloved pastor and theologian Fleming Rutledge, organized according to the framework of the liturgical calendar. Each entry, compiled and edited by Rutledge's friend Laura Bardolph Hubers, begins with a biblical passage and ends with a short prayer.
Those familiar with Rutledge's work will recognize both her genuine empathy for human experience and her deep reverence for God. Anyone longing for the wise pastoral guidance of an adept veteran preacher--one who views Scripture not as bland life lessons or timeless teaching but as "the living God present and acting in the story of redemption"--will find here a meaningful companion through the seasons of their spiritual journey that they can return to year after year.
About the Author
---
Fleming Rutledge is an Episcopal priest, a best-selling author, and a widely recognized preacher whose published sermon collections have received acclaim across denominational lines. Her other books include Help My Unbelief, Three Hours: Sermons for Good Friday, Advent: The Once and Future Coming of Jesus Christ, and The Crucifixion: Understanding the Death of Jesus Christ, which won Christianity Today's 2017 Book of the Year Award.