Survival Arabic: How to Communicate Without Fuss or Fear Instantly! (Completely Revised and Expanded with New Manga Illustrations) (Paperback)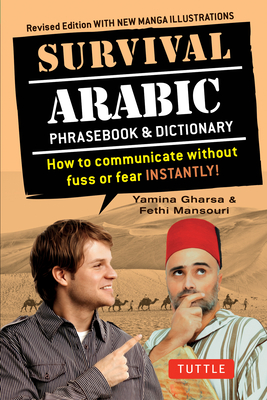 Description
---
This practical Arabic phrasebook puts all the most essential Arabic words and phrases in the palm of your hand.
It contains all the necessary vocabulary and phrases in Modern Standard Arabic, so users will be able to communicate with most people in Arabic-speaking countries. Perfect for students, tourists and business people, it also contains a beginner's guide to the Arabic language, which allows for a deeper understanding of the language than a typical Arabic phrasebook or Arabic dictionary provides. The phrasebook is organized by situations where one might need to speak Arabic, such as: at a hotel, in a taxi, at a restaurant, in an emergency, etc. All Arabic words and phrases are written in Romanized form as well as Authentic Arabic script so that, in case of difficulties, the book can be shown to an Arabic speaker.
Key features include:
Hundreds of useful Arabic words and expressions.
Romanized forms, phonetic spellings, and Arabic script for all words and phrases.
An introduction to the Arabic Alphabet.
A pronunciation guide for Arabic letters and words.
A guide to Arabic grammar.
A section on specific titles and place names.
An Arabic dictionary for quick reference.
About the Author
---
Yamina Gharsa has an M.A. in Education and Human Development from the George Washington University. She currently teaches Arabic at Stony Brook University and has been teaching Arabic to new and heritage learners for more than 20 years. In addition to Arabic, she teaches French and English.