Jewish Meditation: A Practical Guide (Paperback)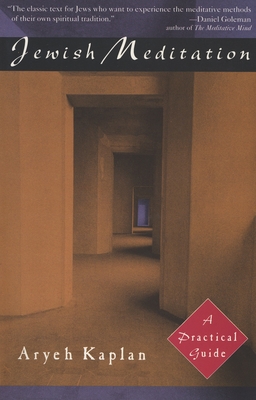 Description
---
Students of mediation are usually surprised to discover that a Jewish mediation tradition exists and that it was an authentic and integral part of mainstream Judaism until the eighteenth century.
 
Jewish Meditation is a step-by-step introduction to meditation and the Jewish practice of meditation in particular. This practical guide covers such topics as mantra meditation, contemplation, and visualization within a Jewish context. It shows us how to use meditative techniques to enhance prayer using the traditional liturgy—the Amidah and the Shema. Through simple exercises and clear explanations of theory, Rabbi Kaplan gives us the tools to develop our spiritual potential through an authentically Jewish meditative practice.
About the Author
---
ARYEH KAPLAN, who died in 1983, was a well-known Orthodox rabbi and teacher of Jewish meditation. He is the author of many books, including a translation of the Torah commentary Me'am Lo'ez.
Praise For…
---
"The classic text for Jews who want to experience the meditative methods of their own spiritual tradition."
—Daniel Goleman, author of The Meditative Mind
 
"[This is] the first book to read on the subject. It is a gentle, clear introduction and provides exercises and practices that can be used right away by any Jew who wants a deeper prayer experience."
—Rodger Kamenetz, author of The Jew in the Lotus
 
"New and old davveners can learn from this sainted teacher how to deepen their holy processes . . . One can, with the help of God and the aid of this manual, tap into the Cosmic."
—Zalman M. Schachter-Shalomi
 
"A guide to Jewish prayer and meditation that is both grounded in the tradition and genuinely mind-expanding. For anyone seeking to connect with the spiritual side of Judaism, this book is essential."
—William Novak
 
"At a time when Jews are rediscovering their hunger for spirituality, Kaplan's clear and comprehensive book could well be one of the most important Jewish books of our time.
—Harold S. Kushner, author of When Bad Things Happen to Good People