Popol Vuh: The Sacred Book of the Maya; The Great Classic of Central American Spirituality, Translated from the Original Maya Tex (Paperback)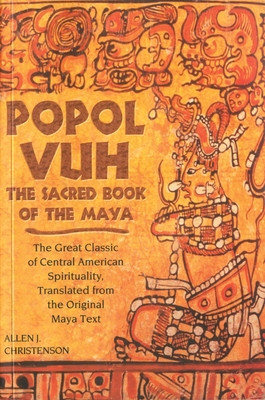 This item is not available.
Description
---
The Popol Vuh is the most important example of Maya literature to have survived the Spanish conquest. It is also one of the world's great creation accounts, comparable to the beauty and power of Genesis.
Most previous translations have relied on Spanish versions rather than the original K'iche'-Maya text. Based on ten years of research by a leading scholar of Maya literature, this translation with extensive notes is uniquely faithful to the original language. Retaining the poetic style of the original text, the translation is also remarkably accessible to English readers.
Illustrated with more than eighty drawings, photographs, and maps, Allen J. Christenson's authoritative version brings out the richness and elegance of this sublime work of literature, comparable to such epic masterpieces as the Ramayana and Mahabharata of India or the Iliad and Odyssey of Greece.