Roadside Religion: In Search of the Sacred, the Strange, and the Substance of Faith (Paperback)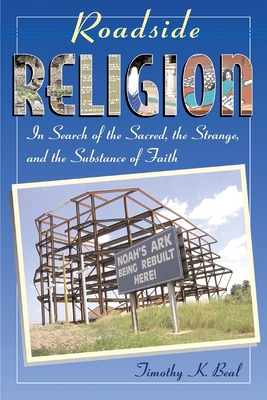 This item is not available.
Description
---
In the summer of 2002, Timothy K. Beal loaded his family into a twenty-nine-foot-long motor home and hit the rural highways of America in search of roadside religious attractions-sites like the World's Largest Ten Commandments and Precious Moments Chapel. Roadside Religion tells of his attempts to understand the meaning of these places as expressions of religious imagination and experience, and to encounter faith in all its awesome absurdity.
About the Author
---
Timothy K. Beal is Florence Harkness Professor of Religion and director of the Baker-Nord Center for the Humanities at Case Western Reserve University in Cleveland, Ohio. His books include Religion and Its Monsters and The Book of Hiding, and his essays have appeared in the New York Times, The Chronicle of Higher Education, and the Washington Post. He lives in Cleveland, Ohio.
Praise For…
---
Beal quietly goes beneath the surface to show you that what you see is not always what you get . . . [Answers] questions you might never have thought of asking, even as it keeps the pages turning. --Caroline Leavitt, Boston Sunday Globe

"A definitively open-minded professor of religion . . . In his introduction, Beal notes that his daughter, Sophie, has said that what he likes to do 'is make creepy things interesting.' Smart girl." --Sarah Ferrell, New York Times Book Review

"Full of gentle humor and clever observations . . . Whether he's tackling the popularity of biblical mini-golf courses or Precious Moments figurines, Beal . . . uncovers serious questions about religion and its sometimes highly singular practitioners." --Publishers Weekly, starred review

"[An] informative meditation on American religion." --Ray Waddle, Tennessean

"If you're in the mood for a contemporary American-style religious pilgrimage, this book can help you have a good time reflecting while you journey." --Judith Klamm, Presbyterians Today

"An enjoyable read that would have succeeded as a quirky guide to Christian-themed tourist traps. It goes further in showing that people can find their faith in strange ways-even in a twisted landscape of wooden crosses, rusty appliances and fire-and-brimstone graffiti declaring, 'Hell. Hell. Hot. Hot.'" --Cleveland Magazine

"Roadside Religion is a generous and intelligent guide to some of the most unusual expressions of faith that grace the American Landscape." --Body and Soul

"The book is full of good humor, and Beal doesn't patronize the creators of these attractions but accords them respect and dignity . . . Entertaining, quirky, and surprisingly thoughtful." --Booklist

"With humor and sensitivity, [Beal] analyzes the substance of American faith as he explores what these places mean to the people who made them and to the people who visit them." --Religion News Service