Vampire in Love (Paperback)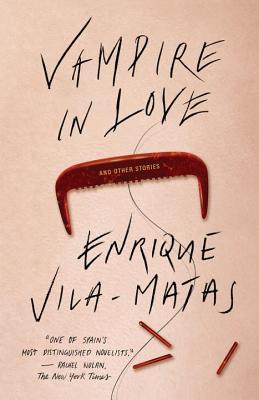 Description
---
"Arguably Spain's most significant contemporary literary figure" (Joanna Kavenna, The New Yorker)
Gathered for the first time in English, and spanning his entire career,
Vampire in Love
offers a selection of the Spanish master Enrique Vila-Matas's finest short stories. An effeminate, hunchbacked barber on the verge of death falls in love with a choirboy. A fledgling writer on barbiturates visits Marguerite Duras's Paris apartment and watches his dinner companion slip into the abyss. An unsuspecting man receives a mysterious phone call from a lonely ophthalmologist, visits his abandoned villa, and is privy to a secret. The stories in
Vampire in Love
, selected and brilliantly translated by the renowned translator Margaret Jull Costa, are all told with Vila-Matas's signature erudition and wit and his provocative questioning of the interrelation of art and life.
About the Author
---
ENRIQUE VILA-MATAS was born in Barcelona. He has received countless prizes and written numerous award-winning novels, including Bartleby & Co., Montano's Malady, Never Any End to Paris, and Dublinesque.

For her translations of Spanish and Portuguese, Margaret Jull Costa has won the Oxford-Weidenfeld Translation Prize four times as well as the Premio Valle-Inclán, the International Dublin Literary Award, and the 2008 PEN Prize for best translation from any language for The Maias, by Eça de Queirós (New Directions, 2007).
Praise For…
---
Vila-Matas is one of the most celebrated writers in Europe. His work has been translated into over thirty languages. His novels, artful and experimental and mixed with a strong tradition of storytelling, are ideal for anyone who's a fan of Paul Auster, J.M. Coetzee, or Roberto Bolaño.
— Mark Haber - Brazos Bookstore

Leaves an unmistakable impression yet defies definitions of genre.
— The Coil

Rare is a talent with supernatural ability to bring fuse genre and literary fiction, but Vila-Matas does it effortlessly. Be prepared to have your breath taken away…
— Michael Barron - The Culture Trip

He equips both with shreds of certainty, wisps of desire, then sends them spinning into a world of blurred categories, strange tempos, multiplying selves, confused identities. His are lands in which everything is contested, and where absences – whether in the form of romantic loss, thwarted hopes, memory, failure or death – are pervasive, patient, often inevitable.
— Matthew Adams - The National

One of Spain's most distinguished novelists.
— Rachel Nolan - The New York Times

Vila-Matas seems determined to test that faith, crafting tales of surrealist noir in which virtually anything can happen except happiness.
— The New Yorker

With his ironic worldview and playful sense of fatality, Vila-Matas's reputation as a writer of intellectually stimulating but accessible novels looks set to grow among English-language readers.
— The Wall Street Journal

With oft-remarkable prose, wit, and more than a little playfulness, Vila-Matas's short fiction reveals an artisan as comfortable (and skillful) in brevity as he is in longer form. Vampire in Love ably demonstrates the wide variety of storytelling hues available on Vila-Matas's literary palette.

— Jeremy Garber - Three Percent

Plunge into this work with an open mind and know that you're going to be reading the work of a man who probably loves books and literature more than anyone else on the planet. If you have any feeling for books and literature yourself, you're going to fall in love with this work. The tremendously touching characters in Enrique Vila-Matas's novels—who stumble from one place to the next, not really sure where they are going, but always on a quest—are so deeply comical on the one hand, and so deeply poignant on the other, that you just have to give yourself up to it because you're in the hands of a master.
— Paul Auster

Vila-Matas's work made a tremendous impression on me. I was fascinated by his humor, the incredible knowledge he has of all kinds of literature, his compassion for writers, and his fearlessness in taking on literary subjects and making that part of what he is writing about.
— Paul Auster