There are no products in your shopping cart.
Dear Los Angeles: The City in Diaries and Letters, 1542 to 2018 (Hardcover)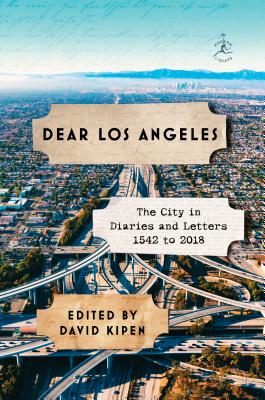 Description
---
A rich mosaic of diary entries and letters from Marilyn Monroe, Cesar Chavez, Susan Sontag, Albert Einstein, and many more, this is the story of Los Angeles as told by locals, transplants, and some just passing through.

"Los Angeles is refracted in all its irreducible, unexplainable glory."—Los Angeles Times

The City of Angels has played a distinct role in the hearts, minds, and imaginations of millions of people, who see it as the ultimate symbol of the American Dream. David Kipen, a cultural historian and avid scholar of Los Angeles, has scoured libraries, archives, and private estates to assemble a kaleidoscopic view of a truly unique city.
 
From the Spanish missionary expeditions in the early 1500s to the Golden Age of Hollywood to the strange new world of social media, this collection is a slice of life in L.A. through the years. The pieces are arranged by date—January 1st to December 31st—featuring selections from different decades and centuries. What emerges is a vivid tapestry of insights, personal discoveries, and wry observations that together distill the essence of the city.
 
As sprawling and magical as the city itself, Dear Los Angeles is a fascinating, must-have collection for everyone in, from, or touched by Southern California.
 
With excerpts from the writing of Ray Bradbury • Edgar Rice Burroughs • Octavia E. Butler • Italo Calvino • Winston Churchill • Noël Coward • Simone De Beauvoir • James Dean • T. S. Eliot • William Faulkner • Lawrence Ferlinghetti • Richard Feynman • F. Scott Fitzgerald • Allen Ginsberg • Dashiell Hammett • Charlton Heston  • Zora Neale Hurston • Christopher Isherwood • John Lennon • H. L. Mencken • Anaïs Nin • Sylvia Plath • Ronald Reagan • Joan Rivers • James Thurber • Dalton Trumbo • Evelyn Waugh • Tennessee Williams • P. G. Wodehouse • and many more

Advance praise for Dear Los Angeles

"This book's a brilliant constellation, spread out over a few centuries and five thousand square miles. Each tiny entry pins the reality of the great unreal city of Angels to a moment in human time—moments enthralled, appalled, jubilant, suffering, gossiping or bragging—and it turns out, there's no better way to paint a picture of the place."—Jonathan Lethem

"[A] scintillating collection of letters and diary entries . . . an engrossing trove of colorful, witty insights."—Publishers Weekly (starred review)
About the Author
---
David Kipen was born and raised in Los Angeles. He founded the nonprofit Boyle Heights lending library Libros Schmibros in 2010. Former literature director of the National Endowment for the Arts, book editor/critic of the San Francisco Chronicle, and contributor to multiple volumes of California cultural history, Kipen teaches full-time in the UCLA writing program. A familiar voice on public radio, he also serves as book critic for Los Angeles magazine and is critic-at-large for the Los Angeles Times.
Praise For…
---
"Los Angeles is refracted in all its irreducible, unexplainable glory in Dear Los Angeles. . . . Kipen's new compendium collects fragmentary views of Los Angeles, from nearly 500 years of letters and diaries, turning the City of Angels into a city of angles, glimpses, shards of perception, like a million little slivers of a broken mirror, all reflecting different images of our disparate city back to us."—Los Angeles Times

"This book's a brilliant constellation, spread out over a few centuries and five thousand square miles. Each tiny entry pins the reality of the great unreal city of Angels to a moment in human time—moments enthralled, appalled, jubilant, suffering, gossiping or bragging—and it turns out, there's no better way to paint a picture of the place."—Jonathan Lethem
 
"[A] grand, cosmic, Joycean 'year' of Los Angeles's entire existence . . . . These voices and moods in such strange proximity to each other, across centuries, create the sense of a vibrant community . . . engaged in constant conversation. . . . A book for the ages."—Los Angeles Review of Books

"[A] scintillating collection of letters and diary entries . . . an engrossing trove of colorful, witty insights."—Publishers Weekly (starred review)

"[This] book deepens and expands and flyspecks our view of Los Angeles. . . . An ebullient and often moving way to organize history. Major events (wars, public ceremonies, assassinations, elections) blend with private joys and griefs, and with offbeat assertions, wild boasts, intimate details and moments of unforced lyricism."—The New York Times

"A Los Angeles native and lion of the city's literary culture gathers writers' impressions of the City of Angels from across several centuries. . . . Like the city itself, the book mashes wildly diverse sources into an intriguing and surprising whole."—Kirkus Reviews 

"Lushly rewarding . . . irresistible . . . Los Angeles native and book critic Kipen performed a seven-year feat of zealous, far-ranging research and editing to create what he describes as 'a collective self-portrait of Los Angeles.'"—Booklist

"What better way to celebrate this fragmented yet uncontainable city than through these pithy historical nuggets of intellectual and artistic criticism and delight. I'm keeping my copy and will surely be buying many more as gifts, too. John Cage! Octavia Butler! Thank you, David Kipen, for loving the unruly sprawl."—Aimee Bender, author of The Particular Sadness of Lemon Cake
Coverage from NPR