Afrindian Fictions: Diaspora, Race, and National Desire in South Africa (Hardcover)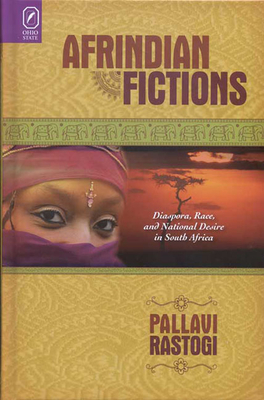 Description
---
In the first published book-length study of Indian fiction in South Africa, Pallavi Rastogi demonstrates that Indians desire South African citizenship in the fullest sense of the word, a longing for inclusion that is asserted through an "Afrindian" identity. Afrindian Fictions: Diaspora, Race, and National Desire in South Africa examines Afrindian identity and blurs the racial binary of black and white interaction in South African studies as well as unsettles the East-West paradigm of migration dominant in South Asian diaspora studies.
 While offering incisive analyses of the work of the most important South African Indian writers today—Ahmed Essop, Farida Karodia, Achmat Dangor, Imraan Coovadia, and Praba Moodley among others—the author also places South African Indian fiction within broader literary traditions. Rastogi's project of recovery shines a light on the rich but neglected literature by South African Indians. The book closes with interviews conducted with six key South African Indian writers. Here the authors not only reflect on their own writing but also comment on many of the issues raised in the book itself, particularly the role of Indians in South Africa today, and the status of South African Indian writing.
 Afrindian Fictions is a valuable introduction to South African Indian literature as well as a major interrogation of some of the foundational notions of post-colonial literary studies. 
About the Author
---
Pallavi Rastogi is assistant professor in the department of English at Louisiana State University.
Praise For…
---
"Pallavi Rastogi covers new ground and I am sure this book is going to attract a good deal of reaction from readers, especially South Africans themselves. The author has done a first-class job of introducing the reader to South African writers from the Indian community. This is groundbreaking research." —R. Neville Choonoo, professor of Africana and Latino Studies, SUNY Oneonta

"Afrindian Fictions fills a gap in literary criticism and addresses the history of a community often overlooked in South African studies. Rastogi has chosen a fascinating topic and it's wonderful to see these writers discussed with the critical seriousness they deserve." —Pamela Cooper, associate professor of English, University of North Carolina at Chapel Hill