Activist Leaders of San José: En sus propias voces (Paperback)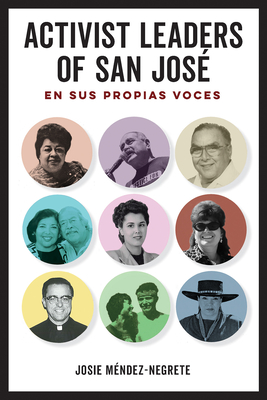 Description
---
The community of San José, California, is a national model for social justice and community activism. This legacy has been hard earned. In the twentieth century, the activists of the city's Mexican American community fought for equality in education and pay, better conditions in the workplace, better health care, and much more.

Sociologist and activist Josie Méndez-Negrete has returned to her hometown to document and record the stories of those who made contributions to the cultural and civic life of San José. Through interview excerpts, biographical and historical information, and analysis, Méndez-Negrete shows the contributions of this singular community throughout the twentieth century and the diversity of motivations across the generations.

Activists share with Méndez-Negrete how they became conscious about their communities and how they became involved in grassroots organizing, protest, and social action. Spanning generations, we hear about the motivations of activists in the 1930s to the end of the twentieth century. We hear firsthand stories of victories and struggles, successes and failures from those who participated.

Activist Leaders of San José narrates how parents—both mothers and fathers—were inspired to work for the rights of their people. Workers' and education rights were at the core, but they also took on the elimination of at-large elections to open city politics, labor rights, domestic abuse, and health care. This book is an important record of the contributions of San José in improving conditions for the Mexican American community.
About the Author
---
Josie Méndez-Negrete is a professor emerita of Mexican American studies in the Department of Bilingual-Bicultural Studies, the Mexican American Studies Program, and the College of Education and Human Development at the University of Texas at San Antonio. She is the author of two previous books: A Life on Hold: Living with Schizophrenia takes us inside the heartbreak of mental illness. Las Hijas de Juan: Daughters Betrayed narrates a story of domestic and sexual violence in her family.