Viking Mediologies: A New History of Skaldic Poetics (Paperback)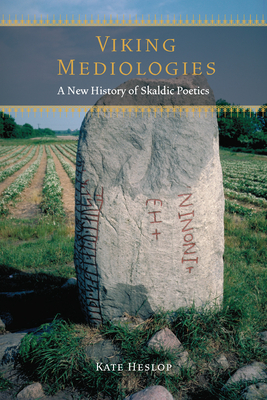 $35.00

Usually arrives at our store within 4-7 days
Description
---
Viking Mediologies is a study of pre-modern multimedia rooted in the embodied poetic practice of Viking Age skalds. Prior study of the skaldic tradition has focused on authorship--distinctions of poetic style, historical contexts, and attention to the oeuvres of the skalds whose names are preserved in the written tradition. Kate Heslop reconsiders these not as texts but as pieces in a pre-modern media landscape, focusing on poetry's medial capacity to embody memory, visuality, and sound.
Mobile, hybrid, diasporic social formations--bands of raiders and traders, petty kingdoms, colonial expeditions--achieved new prominence in the Viking Age. Skalds offered the leaders of these groups something uniquely valuable. With their complicated poetry, they claimed to be able to capture shared contingent meanings and re-mediate them in named, memorable, reproducible works. The commemorative poetry in
kvi uh ttr
remembers histories of ruin and loss. Skaldic ekphrasis discloses and reproduces the presence of the gods.
Dr ttkv tt
encomium evokes for the leader's retinue the soundscape of battle. As writing arrived in Scandinavia in the wake of Christianization, the media landscape shifted. In the poetry of the twelfth and thirteenth centuries, skalds adjusted to the demands of a literate audience, while the historical and poetological texts of the Icelandic High Middle Ages opened a dialogue between Latin Christian ideas of mediation and local traditions. In the
Second Grammatical Treatise
, for example, the literate technology of the grid is used to analyze the complex resonances of dr ttkv tt as the output of a syllable-spewing hurdy-gurdy--a poetry machine. Offering both new readings of both canonical works such as
Ynglingatal
,
Ragnarsdr pa
, and
H ttatal
, and examinations of lesser-known texts like
Glymdr pa
,
L knarbraut
, and Sturla r arson's
H konarkvi a
,
Viking Mediologies
explores the powers and limits of poetic mediation.