Adapt!: On a New Political Imperative (Paperback)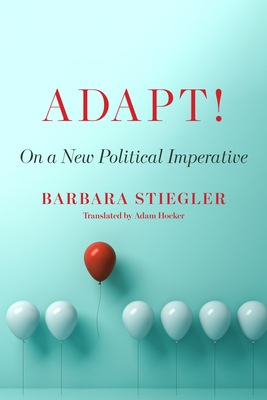 $29.95

Usually arrives at our store within 4-7 days
Description
---
Winner, French Voices Award
This book, a crossover hit in France, offers a fresh genealogy of our neoliberal moment.
"We must adapt " These words can be heard almost everywhere and in every aspect of our lives. Where does this widespread sense that we have fallen behind come from? How can we explain this progressive colonization of the economic, social, and political fields by this biological vocabulary of evolution? Offering a lucid account of sophisticated material, Barbara Stiegler uncovers the prehistories of today's ubiquitous rhetoric in Darwinism and American liberalism, while, at the same time, recovering powerful resistances to the rhetoric of adaptation across the twentieth century. Walter Lippmann, an American theorist of this new liberalism, believed democracy was not adapted to the needs of globalization. Only a government of experts could force society to evolve, he argued. Lippmann thus found himself confronted with John Dewey, the great figure of American Pragmatism. Both Lippmann and Dewey labored under the impression that the world had changed and society needed to adapt. However, Lippmann did not trust society to adapt on its own and insisted on the need for experts who would force the necessary adaptation. Dewey, by contrast, believed the necessary adaptation could only come "from below" and should proceed in a democratic fashion. Focusing on readings of Michel Foucault, Walter Lippmann, and John Dewey,
Adapt
paves the way for renewed insights into neoliberalism's history, essence, characteristic forces, and impacts, as well as biopolitical theory. Stiegler presents an intriguing new genealogy for the development of neoliberalism, examining whether humans are by nature lagging and require biopolitical and disciplinary management to enforce adaptation. Stiegler also reorients Foucault's genealogy of neoliberalism by emphasizing the Darwinian rhetoric of adaptation, as it arose in the Lippmann-Dewey Debate, and deftly handles the question of human nature in a way that re-enlivens this traditional concept. As the industrialization of our ways of life never stops destroying the environment and the health of organisms (climate disruption, the destruction of biodiversity, the growth of chronic diseases, the return of large pandemics), how can we think of a democratic government of life and the living? This is the question that Stiegler's work helps us to confront.
About the Author
---
Barbara Stiegler (Author) Barbara Stiegler is Professor at the University of Bordeaux Montaigne, France. Adam Hocker (Translator) Adam Hocker is a bookseller, translator, and musician based in Berlin.