Gestures: The Study of Religion as Practice (Future of the Religious Past) (Paperback)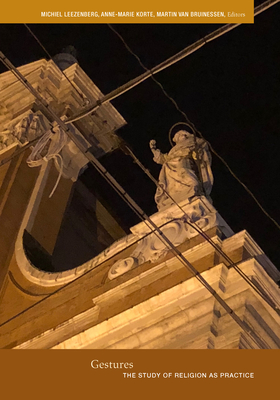 $40.00

Usually arrives at our store within 4-7 days
Description
---
This concluding volume of the Future of the Religious Past series approaches contemporary religion through the lens of practice: the rituals, performances, devotions, and everyday acts through which humans do religion. In spite of predictions about the inevitability of secularism, religion in the twenty-first century remains stubbornly resilient, and Gestures: The Study of Religion as Practice offers a new vantage point from which to see the religious as a category shaped and reshaped by modernity and to encounter religion not as something bounded by doctrines and sacred texts but as lived experience.
Twenty-four globally based scholars look to practice to examine such diverse phenomena as human rights, memory, martyrdom, dress and fashion, colonial legacies, blasphemy, mass political action, and the future of secularism.
Contributors:
Umut Azak, Christoph Baumgartner, Rajeev Bhargava, John R. Bowen, Judith Butler, Rokus de Groot, Martijn de Koning, Sanne Derks, Wendy Doniger, Willy Jansen, Yolande Jansen, Mariwan Kanie, Webb Keane, Anne-Marie Korte, Michael Lambek, Bruno Latour, Michiel Leezenberg, Annelies Moors, Catrien Notermans, S. Brent Plate, Samuli Schielke, Regina M. Schwartz, Yvonne Sherwood, Thomas A. Tweed, Sander van Maas, Ali Hassan Zaidi
About the Author
---
Michiel Leezenberg (Edited By) Michiel Leezenberg teaches in the Departments of Philosophy, Religious Studies, and Classics at the University of Amsterdam and has published widely on the philosophy of the humanities, Islamic intellectual history, and the Kurdish question. His recent publications include (with Gerard de Vries) History and Philosophy of the Humanities: An Introduction (Amsterdam University Press, 2018), Sexuality and Politics in Islam (Prometheus, 2017), and Foucault (Athenaum, 2021). Anne-Marie Korte (Edited By) Anne-Marie Korte is professor of religion and gender at Utrecht University. She coedited (with Angela Berlis and Kune Biezeveld) Everyday Life and the Sacred: Re/configuring Gender Studies in Religion (Brill, 2017); (with Christiane Kruse and Birgit Meyer) Taking Offense: Religion, Art, and Visual Culture in Plural Configurations (Fink Verlag, 2018); and (with Mariecke van den Berg, Lieke Schrijvers, and Jelle Wiering) Transforming Bodies: Religions, Powers and Agencies in Europe (New York: Routledge, 2020). Martin M. van Bruinessen (Edited By) Martin van Bruinessen is professor emeritus in the Department of Philosophy and Religious Studies at Utrecht University. He is the editor of Contemporary Developments in Indonesian Islam: Explaining the 'Conservative Turn' (Institute of South East Asian Studies, 2013) and (with Stefano Allievi) of Producing Islamic Knowledge: Transmission and Dissemination in Western Europe (Routledge, 2011).