The Voice in the Hollow (Hardcover)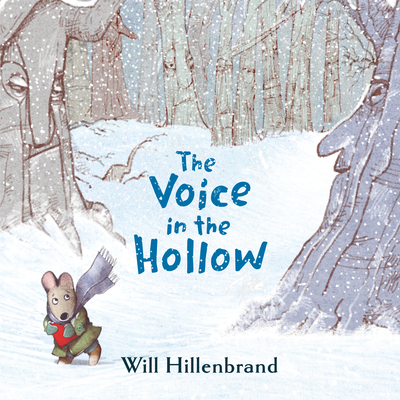 Description
---
A young mouse's shortcut home turns into a fantastical journey guided by a mysterious guardian in this wintery tale with a breath-taking double gatefold surprise.

When a blizzard closes the library early, Hubert decides to take a shortcut home through the spooky Hollow. Just as Hubert is gathering his nerve to press on, another mouse appears and offers to take his hand. Together they journey through the snow, an ominous forest, over fallen trees traversing ravines, and over the mountains. Hidden in the terrain are scenes that evoke myths of the origins of Earth's mysterious features and nature's erratic behavior. In a stunning double gatefold sleeping bears spring to life, setting off a landslide and sending Hubert and his guardian running.

Just as Hubert is reaching his destination he turns to find his guide gone. Hubert races home to tell his family about his wild adventure through the Hollow.

In this winter tale, with a sparse text Will Hillenbrand crafts a new family favorite for settling down on snowy nights.
About the Author
---
Will Hillenbrand has written and illustrated a wide range of picture books for children, including the popular Bear and Mole books and the Mighty Reader series.. Spring Is Here won the Please Touch Museum Book Award. What a Treasure! a Pennsylvania One Book, was written with his spouse Jane Hillenbrand.
Praise For…
---
★ "Hillenbrand at his best. . . . Hillenbrand's snowy landscapes are sumptuous, at times cozy, at times ominous. The surprise of the stranger will shock many first-time readers, making for a memorable tale that will enchant little ones and storytellers alike. A ghost story you'll love to share!"—Kirkus Reviews, Starred Review

★ "In a yarn that's simultaneously frightening and reassuring, Hillenbrand renders the daring thrill of an adventure taken and hints at the way that great stories tend to involve an element of risk."—Publishers Weekly, Starred Review

★ "Putting his own stamp on a widespread, ghostly folktale motif, Willenbrand creates a picture book that hits the sweet spot between kids' heartfelt pleas to hear scary stories and their equally strong desire not to become truly scared. . . . A beautifully crafted picture book, illustrated with finesse."—Booklist, Starred Review

★ "There's not a word out of place in this blustery adventure, a masterful collaboration of illustration and text; this cozy winter tale with its striking pictures may appear to be cold but is quite the opposite."—School Library Journal, Starred Review

"An excellent wintertime read to bring back the ghostly chills of Halloween."—The Bulletin of the Center for Children's Books

"The Voice in the Hollow is both charming, mysterious and a tiny bit chilling—perfect for reading while a snowstorm blows outside." —BookPage

"The soft art uses line and color to convey mood and atmosphere. . . . Spare text tracks their progress through the hollow, while the illustrations tell a more dramatic story."—The Horn Book