Guía de Exploradores de la Biblia, Personas Y Lugares: 1,000 Datos Y Fotos Fascinantes (Hardcover)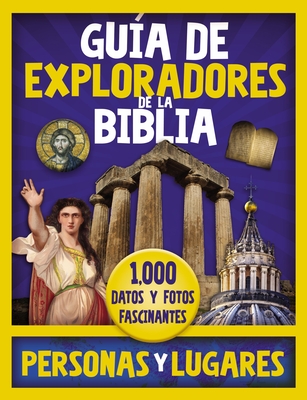 Description
---
Del principal editor de la Biblia del mundo llega la Gu a de exploradores de la Biblia, personas y lugares, el recurso perfecto para los ni os curiosos sobre personas y lugares de la Biblia.
Repleto de datos divertidos y fotos, ilustraciones y mapas a todo color, este libro da vida a personajes y lugares b blicos clave como:
- Las primeras personas: Ad n y Eva
- Reyes y reinas: el rey Salom n y la reina de Saba
- Guerreros: D bora y Sans n
- Profetas: El as y Eliseo
- El gigante y el peque o: Goliat y David
- El mundo antiguo
- Jerusal n
- Y m's
Gu a de exploradores de la Biblia les fascinar a los ni os de 8 a os en adelante y es la referencia perfecta para lectores reacios y estudiantes visuales interesados en descubrir la historia de la Biblia y su gente.
The Bible Explorer's Guide, People and Places
From the world's leading Bible publisher comes The Bible Explorer's Guide, People and Places, the perfect resource for kids curious about people and places in the Bible.
Packed with fun facts and full-color photos, illustrations, and maps, this book brings to life key Bible characters and places such as:
The first people: Adam and Eve
Kings and Queens: King Solomon and the Queen of Sheba
Warriors: Deborah and Samson
Prophets: Elijah and Elisha
The giant and the little one: Goliath and David
The ancient world
Jerusalem
And more
The Bible Explorer's Guide will fascinate children ages 8 and up andis the perfect reference for reluctant readers and visual learners interested in discovering the history of the Bible and its people.