Mandela: In Honor of an Extraordinary Life (Hardcover)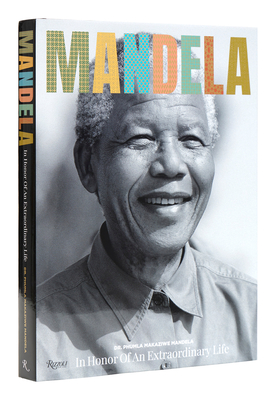 Description
---
A tribute to her father, Makaziwe Mandela shares the most definitive portrait of Nelson Mandela to date, revealing the man behind the anti-apartheid movement that changed the world.

One of Time magazine's Most Important People of the Twentieth Century, Nelson Mandela continues to be a symbol of equality and justice: a Nobel Prize winner, South Africa's first Black president, and an unrelenting leader in the movement to dismantle racial inequality. Written by his daughter, her story uncovers the family man behind the international peacemaker persona.

This volume presents an extraordinary assembly of historic biography and imagery alongside never-before-published family stories and personal photographs, Nelson Mandela's letters to friends and family, journal entries written during his incarceration, and a unique collection of rarely seen charcoal drawings and paintings he began at 83 years old. Chapters chronicle Mandela's childhood growing up in Mvezo, his time in Johannesburg as leader of the African National Congress, the importance of his familial relationships, decades of imprisonment, and his role as president and philanthropist. An enthralling read illustrated by powerful historic imagery, this tome delves into the life of the man that continues to galvanize so many.
About the Author
---
Makaziwe Mandela is the Chairman and Co-Founder of House of Mandela, a global activist, and the oldest living child of Nelson and Evelyn Mandela. Reverend Al Sharpton is an American civil rights activist, talk show host, and politician. Noëlla Coursaris Musunka is a philanthropist, model, and founder and CEO of the nonprofit Malaika, which works to educate and empower girls. Jo Van Reenen is an auctioneer and founder and CEO of The Chant Laboratory. Mazisi Kunene (1930-2006) was a South African poet.
Praise For…
---
""Mandela: In Honor of an Extraordinary Life" is a photographic account of the man and his family. Authored by Dr. Pumla Makaziwe Mandela, the youngest and last surviving child of Nelson and first wife Evelyn Mase, it gives an intimate view of a man on a mission to deliver a new dawn for the nation, and the family that grew along that journey.
Featuring a tribute from the Reverend Al Sharpton and passages from Dr. Mandela, the book also contains never-before-seen images of the private life of Mandela and his children, released for the first time nearly 10 years since his death in December 2013 at the age of 95 in Johannesburg, South Africa." ~CNN

"This hybrid biography of Nelson Mandela, compiled by his daughter, includes personal photographs, letters, stories, journal entries and charcoal drawings to offer an intimate rendering of the South African leader's life." ~NY TIMES