Benjamin Graham's Net-Net Stock Strategy: A practical guide to successful deep value investing in today's markets (Paperback)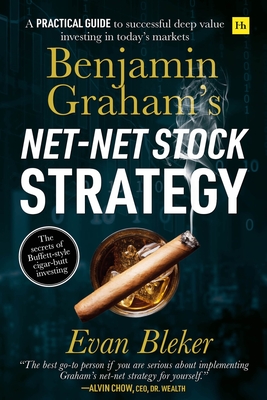 $34.99

Usually arrives at our store within 4-7 days
Description
---
IN 1975, legendary value investor Benjamin Graham wrote that his net-net stock strategy worked so well that he had renounced all other value investing strategies.
In his 2014 shareholder letter, Warren Buffett wrote that he earned the highest returns of his career employing this 'cigar butt' approach to investing.

And despite the widespread assumption that net-net stocks are a relic of the past, Graham's net-net stock strategy is just as viable today for small private investors as it was for Buffett's 'superinvestors' during their early careers. Net-net investing remains the most powerful value investing approach a small investor can adopt.

This book is your ultimate practical guide to implementing it – and reaping the rewards – in today's markets.

Evan Bleker has spent ten years studying Graham's strategy to uncover its real-world performance, how to employ it, and why it works. He's also dug deeply to identify additional criteria to boost returns and ensure a greater number of winners.
In this book, Evan defines the strategy for investors, then walks readers through the strategy's philosophy, as well as academic and industry studies assessing the framework, and its implementation by world-class value investors such as Benjamin Graham, Warren Buffett, and Peter Cundill.

He also compiles selection criteria into a practical checklist for investors, and documents how the strategy works in today's markets with exclusive detailed case studies.
About the Author
---
Evan Bleker discovered investing during his senior year at high school when attending a consumer economics class, but he began intensive study in the early 2000s. Despite his focus on value investing, he only began to handily beat the market after discovering Graham's net-nets in 2010.

His ongoing success comes down to his ability to successfully apply Graham's net-net stock strategy and cultivate a strong emotional temperament. Evan spends much of his time reading about investing and business, including the early writing of great deep-value investors who employed Graham's classic strategy. Since 2010, he has focused on finding enduring net-net investing principles that serve as best practices. This focus, along with developing a strong emotional temperament and sticking to his strategy through both good and bad periods have contributed to his great portfolio returns.

Evan graduated from Simon Fraser University during the Great Financial Crisis (GFC) with a degree in Analytic Philosophy. If there was ever a time for a philosophy major to look for a job, the GFC was not it. Evan joined thousands of other economic migrants and traveled East to teach English. He became totally consumed by net-net stocks, eventually launching Net Net Hunter to help others find international net nets and put together a high-quality net-net portfolio quickly and easily. The website is now a thriving little community of dedicated net-net stock investors.

While originally from Canada, Evan currently resides in Seoul, South Korea, and spends much of his time traveling around the Ring of Fire. When he's not investing in net-nets, or managing Net Net Hunter, he practices Brazilian jiu-jitsu, studies personal development, and helps friends start businesses.

www.netnethunter.com
Praise For…
---
"The net-net investing strategy is well known but rarely practised. The strategy was based on simple logic and timeless truth yet many investors found it psychologically difficult to buy unloved stocks. As an individual investor, net-net stocks can give you superior performance that beats the market. Evan would be the best go-to person if you are serious about implementing Graham's net-net strategy for yourself. He has tremendous skin in the game and has an excellent track record to show. Leverage on his knowledge and experience and you won't go wrong." —Alvin Chow, CEO, Dr. Wealth

"Evan has carefully dissected the net-net approaches of some of the investing greats who pioneered the strategy, such as Buffett, Graham, and Cundill, to trounce the market in his own portfolio over a decade, but didn't stop there. He has also distilled net-net investing into an approach that any investor can replicate, without a large investment of time." —Brian Grosso, JBF Capital

"Evan Bleker truly provides something special to the value investing community. It was Benjamin Graham who originally developed the net-net strategy and the data speaks for itself that this original form of quantitative investing has worked extremely well over the past 90 years. Evan has done an extraordinary job at taking data from scattered sources and putting it all together for the most comprehensive guide to Benjamin Graham's favorite strategy I have ever come across. For lovers of value investing, this is a must-read book. While many investors over the years have mentioned net-net investing as a worthy strategy, nobody to my knowledge has taken data from so many different sources and compiled something with this level of substance. Evan has truly written something special here." —Eric Schleien, The Intelligent Investing Podcast

"Investing in net-nets has always been the most profitable, and simple, value investing strategy available. Benjamin Graham earned around 20% per year investing in hundreds of net-nets for more than two decades. Warren Buffett became a millionaire investing in net-nets too. So did Walter Schloss, and Peter Cundill, to name just a few famous superinvestors. Yet, it is a very uncommon approach. Self-appointed value investors today seldom understand it. Worse, most of them claim it doesn't work anymore, or don't even know it exists. Evan Bleker is one of the few value investors in the world who actually understands net-nets in depth, both in theory and in practice. He has invested successfully in these kind of stocks, and he has refined the strategy with his own valuable research and experience." —Luis Sánchez, Céntrica Portfolio Management