Home After Dark: A Novel (Hardcover)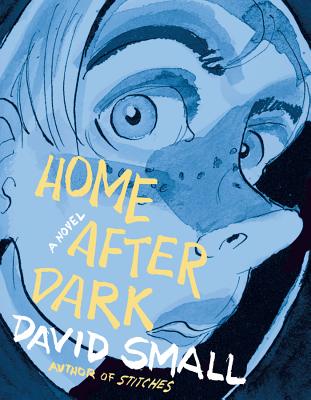 Description
---
Winner of the American Library Association's Alex Award

A Boston Globe Best Book of the Year
David Small's long-awaited graphic novel is a savage portrayal of male adolescence gone awry like no other work of recent fiction or film.
Wildly kaleidoscopic and furiously cinematic,
Home After Dark
is a literary tour-de-force that renders the brutality of adolescence in the so-called nostalgic 1950s, evoking such classics as
The Lord of the Flies
. Thirteen-year-old Russell Pruitt, abandoned by his mother, follows his father to sun-splashed California in search of a dream. Suddenly forced to fend for himself, Russell struggles to survive in Marshfield, a dilapidated town haunted by a sadistic animal killer and a ring of malicious boys who bully Russell for being "queer." Rescued from his booze-swilling father by Wen and Jian Mah, a Chinese immigrant couple who long for a child, Russell betrays their generosity by running away with their restaurant's proceeds. Told almost entirely through thousands of spliced images, once again "employ[ing] angled shots and silent montages worthy of Alfred Hitchcock" (
Washington Post
, on
Stitches
),
Home After Dark
becomes a new form of literature in this shocking graphic interpretation of cinema verité.
About the Author
---
David Small author of the #1 New York Times best-selling Stitches, is the recipient of the Caldecott Medal, the Christopher Medal, and the E. B. White Award. He and his wife, the writer Sarah Stewart, live in Michigan.
Praise For…
---
In Small's haunting coming-of-age tale, 13-year-old Russell Pruitt grows like a determined weed in the wake of masculinity so toxic it has literally killed a menagerie of pets in the small California town where he lives with his troubled father…. The story traffics in archetypes—the mean kid who frames the weirdo; the festering cruelty beneath the idyllic small-town facade—but never tips over into trite. With strikingly few words, Small tells Russell's story in close-ups of bullies' sneers and bird's-eye views of parking lots. Cats, dogs, lions, and other animals haunt Russell's waking life and his dreams, perhaps because he, too, fights tooth and claw to survive. In depicting the toll of the harsh environment surrounding these lost boys, Small unearths an (almost) impossible tenderness.
— Publishers Weekly [Starred Review]

Veteran artist and illustrator Small turns a deeply focused lens onto the isolation, loneliness, and relentless cruelty of male adolescence in this immensely powerful new work. The dark narrative would be oppressive but for the unexpected kindness shown by a Chinese immigrant couple and several small, quietly profound moments of beauty. Drawn in Small's signature style, the narrative feels more like a series of sketches that capture the choices made by Russell and the people around him, snapshots of actions and consequences rather than a traditional narrative. The illustrations, limited to pen, ink, and washes done in a simple, loosely sketched style, convey the nuanced range of emotion of all things left unsaid. Spare and powerful, this is not to be missed.
— Booklist [Starred Review]

Multi-award-winning writer/artist Small (Stitches) returns with an important novel about adolescence and the search for identity. Small is a masterful illustrator, with an incredible ability to establish his characters' inner lives through physical gestures or facial expressions, conveying a kaleidoscopic style of storytelling reminiscent of filmmaker Terrence Malick. While the incredible success of the National Book Award finalist and Caldecott Medal winner Stitches might have seemed almost impossible to follow up, Small has managed to create an even more resonant and stirring work.

— Library Journal [Starred Review]

Prominent picture-book illustrator Small (Imogene's Antlers, 2013, etc.) follows up his critically acclaimed 2009 graphic memoir, Stitches, with another look into the turmoil of adolescence in 1950s America…. Small is a master storyteller, moving the tale swiftly through pages with a wonderful array of panels, many of which are wordless or have just a choice bit of dialogue or narration; his illustrations—emotive, kinetic, with a striking balance of realism and cartoon and particularly arresting facial expressions—speak volumes. Grappling with questions of identity and society, the story has the authenticity and ache of universal experience—filtered through the singular eye of a visionary. Powerful and profound.

— Kirkus Reviews [Starred Review]

David Small's extraordinary new graphic novel, Home After Dark, is the story of Russell, a teenaged boy abandoned first by his mother and then by his father. It's about Russell's adolescence but also everyone's: learning who you can and can't trust, the complexities of relationships with your peers, and figuring out who you are and the kind of person you want to be. Russell's struggle to survive and not be crushed by the indifference or cruelty of the world drew me in. The drawings are gorgeous and expressive—Small's facial expressions alone filled me with awe. A wonderful book and a great follow-up to Stitches.

— Roz Chast, The New Yorker cartoonist

Home After Dark is incredibly moving. David Small is among the most masterful storytellers alive today.

— Gene Yang, author of Boxers and Saints

As an adolescent, when I read Conroy's Stop Time, or Weesner's The Car Thief, or Wolff's This Boy's Life, the prose drew rich images of youth before my eyes, and defined me. David Small, in his sparsely written graphic novel, Home After Dark, has ingeniously created the reverse sensation. The silence of his masterful drawings has put words in my mouth—words that recapture the inchoate chaos of youth.

— Jack Gantos, winner of the Newbery Award and author of Hole in My Life

I thought David Small's Stitches was as good as a graphic novel could get, and I was right. Home After Dark is not a novel, whatever the publisher chooses to call it. It is a poem-in-pictures, evocative and heart breaking and simple and pure. And I am not sure I will ever recover from it. Think of Lord of the Flies and Catcher in the Rye joined as one, yet even more painfully honest. This a haunting work of unfolding surprise. Few words, cinematic pictures, dazzling art.

— Jules Feiffer, author of the best-selling Kill My Mother Trilogy

A master graphic storyteller who has certainly captured male adolescence in 1950s America. Having to think about dodging high school bullies every day sure resonated with me! And Russell's sexual predicament was handled in a very original way.
— Robert Crumb, author of The Book of Genesis Illustrated by R. Crumb