Honoring Tradition, Embracing Modernity: A Reader for the Union for Reform Judaism's Introduction to Judaism Course (Paperback)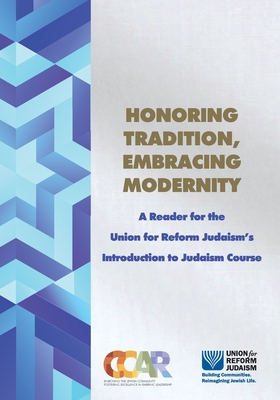 $34.00

Usually arrives at our store within 4-7 days
Description
---
Honoring Tradition, Embracing Modernity, created in partnership between the Central Conference of American Rabbis and the Union for Reform Judaism, is for readers who seek to deepen their knowledge of Judaism--its wisdom, its practices, its beliefs, its customs, its people, and our story. This sourcebook includes selections from Judaism's rich library of wisdom literature, classic and contemporary, in a format designed for use with the URJ's Introduction to Judaism classes.
Honoring Tradition, Embracing Modernity includes five units, as listed below:
- Beginnings: What is Judaism? What are the ethics and values of the Jewish People? How can we understand humanity and human potential through our relationship to God?
- Creating a Jewish Life in Time: An exploration of the Jewish calendar of celebration and sanctity, as well as how life in the community connects and intertwines with life at home.
- The Cycle of Jewish Life: Relationship and marriage traditions, raising a family, growing into later adulthood, and the central role of learning for all generations.
- Creating a Jewish Theology: Different understandings of God, and the diverse roles that synagogue, prayer, and sacred texts play in our lives.
- The Jewish Story and Creating a Jewish Journey: The historical journey of the Jewish People, and the many identities that have emerged from it.