Tecumseh & Brock: The War of 1812 (Hardcover)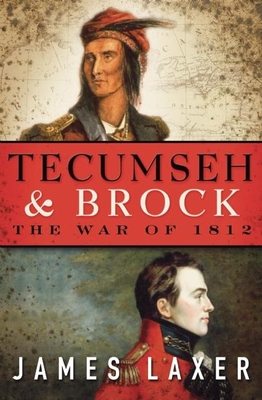 $29.95

Usually arrives at our store within 4-7 days
Description
---
At the turn of the nineteenth century, the British Empire is at the height of its ascendancy; Napoleonic France is struggling to maintain its position as a world power; and the incumbent American empire is quickly expanding its territory, while the Native peoples struggle to establish their own confederacy, their own independent nation.
Bestselling author, historian, political scientist, and scholar James Laxer offers a fresh and compelling view of this decisive war -- which historians have long treated as a second American revolution -- by bringing to life the Native struggle for nationhood and sovereignty; the battle between the British Empire and the United States over Upper and Lower Canada; and finally, at the heart of it, the unlikely friendship and political alliance of two towering figures of history: Tecumseh, the Shawnee chieftain and charismatic leader of the Native confederacy, and Major-General Sir Isaac Brock, protector and defender of the British Empire.
Highly engaging and impeccably researched, Tecumseh and Brock is a powerful work of history, an epic story of empires and emerging nations, of politics and power, and of two leaders whose legacy still lives on today.
About the Author
---
James Laxer is the bestselling and award-winning author of nineteen books, including Stalking the Elephant: My Discovery of America (published by the New Press in New York as Discovering America) and The Border: Canada, the U.S. and Dispatches from the Forty-ninth Parallel. A professor of political science at York University in Toronto and one of Canada's leading political thinkers, Laxer is frequently consulted for commentary on current national and global issues by the media. He lives in Toronto.
Praise For…
---
"Laxer has written a superb narrative of the causes, course and legacy of the war of 1812."Winnipeg Free Press

"Tecumseh & Brock is comprehensive but not burdensome, a banquet of facts that can be enjoyed along with being instructive. Laxer proves Canadian history doesn't have to be dull, particularly when told through the lives of people who lived it."Toronto Star

"[Laxer] displays an authoritative and sympathetic grasp of Native history…Tecumseh and Brock promises a valuable alternative to the notion that history is invariably written by the victors."—National Post

Praise for Discovering America:
"Laxer records his vignettes with humour and verve. This is quality reporting."
Thomas Axworthy, John F. Kennedy School of Government, Harvard University