If There Are Any Heavens: A Memoir (Hardcover)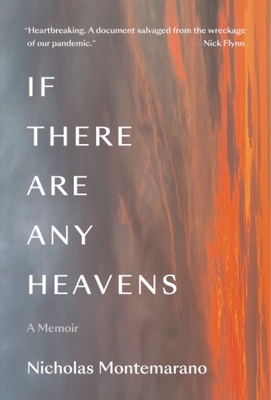 Description
---
Written with visceral urgency in the earliest days of grief, If There Are Any Heavens resists categorization: it is a memoir, a poem, a mournful but loving song.
On January 6, 2021, at the peak of the COVID-19 pandemic in America, while the U.S. Capitol is under attack, Nicholas Montemarano drives six hundred miles to see his mother, who is hospitalized with COVID pneumonia and in a critical state. For ten days he lives in a hotel minutes from the hospital, alternating between hope and helplessness. This is the story of those ten days. It is the story of the pandemic told through the intimate prism of one family's loss.  
Written with visceral urgency in the earliest days of grief, If There Are Any Heavens resists categorization: it is a memoir, a poem, a mournful but loving song. Its form asks readers to slow down and breathe between each broken line. At other moments, a chorus of voices—anti-maskers, COVID-deniers, and doctors—causes the reader to become breathless. It is an almost real-time account of the anxiety, uncertainty, and sorrow brought on by this pandemic. It is also, finally, a devastating homage to a family's love in a time of great loss.  
Now, and many years from now, when people want to understand the personal cost of the COVID-19 pandemic, they will turn to this intimate and spare elegy from a son to his mother.
About the Author
---
Nicholas Montemarano is the author of three novels and a short story collection. His stories have appeared in Esquire, Zoetrope, Tin House, The Southern Review, and many other publications. His writing has been awarded a Pushcart Prize and a fellowship from the National Endowment for the Arts. He is the Alumni Professor of Creative Writing and Belles Lettres at Franklin & Marshall College.
Praise For…
---
If There Are Any Heavens joins a handful of heartbreaking books written in the white-hot storm of grief—such stunners as Mary Jo Bang's Elegy or Peter Handke's A Sorrow Beyond Dreams. Yet I'm unsure how to name what Montemarano has found within his sorrow—it looks like a poem, but (as Montemarano reminds us), remember this isn't a poem. In some ways it is reportage, a document salvaged from the wreckage of our pandemic. In some ways it reads like a play, a monologue unspooling in real time. It is all of these but mostly it is a tribute to a mother, to this body / [which] brought us into the world / …and now we're going to shepherd you out.

— Nick Flynn, author of "This Is the Night Our House Will Catch Fire"

Nicholas Montemarano has transformed his grief into a masterpiece that transcends genre. Every line vividly illustrates the preciousness of ordinary life and the heartache of losing a parent: the lines / must be broken / because my mother's lungs / were broken / beyond repair / and we must pause for breath. An astonishing achievement, If There Are Any Heavens is timely and timeless.

— Jeannie Vanasco, author of "Things We Didn't Talk About When I Was a Girl"

Every superlative comes to mind after reading Nicholas Montemarano's If There Are Any Heavens, but each of them sounds gaudy in the light of what this book offers its reader, which is something more difficult, and giving: an experience of presence, its walls, ceiling, and floor torn away. I don't know of another work that manages to capture so well what it means to both love and say goodbye to the one who bears us into this life. What richness on these pages. It's an honor to be inside its room.

— Paul Lisicky, author of "Later: My Life at the Edge of the World"

Nicholas Montemarano is one of our greatest writers, and here, his most moving and urgent book yet. If There Are Any Heavens is a work of cultural criticism, poetry, memoir, and elegy; a vital book of our times, and an impossibly beautiful reckoning. Montemarano refuses to allow the millions lost to a pandemic (and a culture of negligence) to remain anonymous, instead rendering the acute weight of loss, and the vibrancy of personhood, in astonishing detail. Heavens is a difficult book to categorize or describe, so I'll say, simply: you must read it.

— T Kira Madden, author of "Long Live the Tribe of Fatherless Girls"

A stunning memoir in verse. A beautiful lament. A brilliant, inventive book that has made its own genre.
— Tiana Clark, author of "I Can't Talk About the Trees Without the Blood"