Daughter Zion: Meditations on the Church's Marian Belief (Paperback)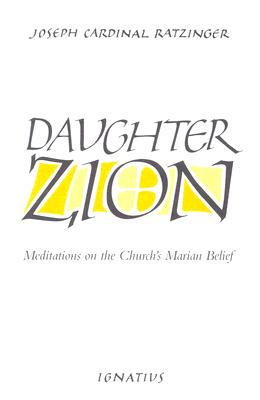 $13.95

Usually arrives at our store within 4-7 days
Description
---
Daughter Zion explores the biblical witness to the Church's Marian dogmas- Mary's role as Mother of God, her virginity, the Immaculate Conception, and her Assumption into heaven. Cardinal Ratzinger examines how these beliefs are linked to the Churchs faith in Jesus Christ. Far from competing with the truth about Christ, the Churchs Marian beliefs uphold and underscore that truth.
Marys role in salvation, according to Cardinal Ratzinger, was anticipated in the Old Testament. She was prefigured in Eve, the Mother of the Living; in the holy women of the Old Testament, such as Sarah, Hannah, Deborah, Esther, and Judith; and in the prophetic image of the daughter Zion. Cardinal Ratzinger also considers Marys place as the embodiment of created wisdom, who faithfully received the Uncreated Wisdom of the World of God in the Incarnation.
Daughter Zion avoids the extremes of denying any biblical foundation for Marian doctrine on the one hand and fundamentalistic proof-texting on the other. Instead, the author beautifully and lucidly develops key biblical themes to help readers understand and appreciate the Mother of God.
About the Author
---
Joseph Ratzinger (Pope Benedict XVI) is widely recognized as one of the most brilliant theologians and spiritual leaders of our age. As pope he authored the best-selling Jesus of Nazareth; and prior to his pontificate, he wrote many influential books that continue to remain important for the contemporary Church, such as Introduction to Christianity and The Spirit of the Liturgy.