Miracles of the Bible (St. Joseph Picture Books) (Paperback)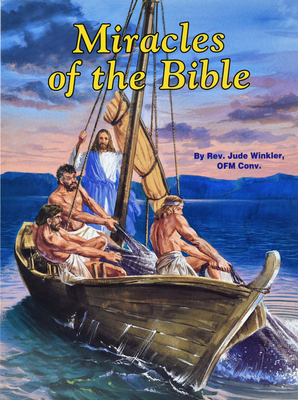 $4.10

Usually arrives at our store within 4-7 days
Other Books in Series
Description
---
One of 101 titles in the St. Joseph Picture Book Series, this book by popular author Rev. Jude Winkler, OFM. Conv. teaches children in simple, easily understandable language about several miracles that Jesus performed on Earth. Among the features of this book are:
summaries and explanations to fifteen of the most famous miracles that Jesus performed
a concluding section explaining how God performs small miracles in our everyday lives
full-color illustrations
durable sewn paperback binding
Topics and figures covered in this title include:
The Wedding Feast of Cana
A Great Catch of Fish
The Paralyzed Man
The Man with a Withered Hand
The Calming of the Storm
The Daughter of Jairus
The Widow of Naim
The Paralyzed Man at the Pool
The Loaves and the Fish
Walking on the Water
The Officer's Servant
The Man Who Was Deaf
The Ten Lepers
The Blind Beggar
Lazarus
Everyday Miracles
The St. Joseph Picture Books Series is a magnificent series of religious books for children, superbly illustrated in full color and simply written, that will help all children to better understand the Catholic Faith. These books are ideal for home or school.
The St. Joseph Picture Books Series is intended to help teach the basics of the Catholic Faith to children in an enjoyable manner. The books in the Seeries deal with one or more of the following themes: (1) the teachings of the Church, (2) the Christian way of life, and (3) our Catholic worship (including both public and private prayers and devotions). Each book also carries the Imprimatur, assuring that the contents are in line with Church teaching.