Romance and Love in Late Medieval and Early Modern Iceland: Essays in Honor of Marianne Kalinke (Islandica #54) (Hardcover)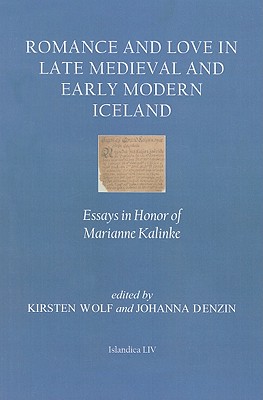 This item is not available.
Description
---
Islandica LIV"The world of romance, whether secular or sacred, is often fraught with difficulties. Lovers are parted and have to struggle to be reunited, monsters or evil stepmothers have to be defeated, and the strength of one's devotion to God or the Virgin Mary has to be demonstrated. Scholars of medieval romance themselves often encounter a thicket of theoretical or philological thorns to wade through, but as all lovers of a good romance know, the protagonist is always rewarded for his or her kindness, wit, hard work, and perseverance."--from Romance and Love in Late Medieval and Early Modern IcelandMarianne Kalinke, who retired from the University of Illinois at Urbana-Champaign in May 2006, made profound contributions in Old Norse-Icelandic literature over her distinguished career of teaching and writing. She is perhaps best known for her Bridal-Quest Romance in Medieval Iceland, also in the Islandica series. This volume in her honor features new essays by fourteen authors on the theme of Old Norse-Icelandic romance and love. Several chapters examine love between a man and a woman with special focus on the ways in which the Sagas of Icelanders differ from courtly romances; tragic and comic elements of Icelandic tales of love; and the differing societal roles of women and men. Other chapters explore the intersection of folklore, mythology, and romance; the role of dwarfs in fourteenth-century Icelandic romances; and the characteristics that distinguish heroic epics from romances. Aspects of love as expressed through religion are highlighted in chapters on sacred and hagiographic texts. For more about the Islandica series, visit http: //cip.cornell.edu/Islandica.