Selected Works of Cesare Pavese (Paperback)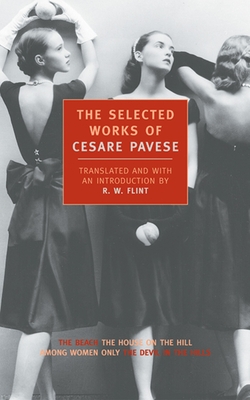 $22.95

Usually arrives at our store within 4-7 days
Description
---
"There is only one pleasure, that of being alive. All the rest is misery," wrote Cesare Pavese, whose short, intense life spanned the ordeals of fascism and World War II to witness the beginnings of Italy's postwar prosperity. Searchingly alert to nuances of speech, feeling, and atmosphere, and remarkably varied, his novels offer a panoramic vision, at once sensual and finely considered, of a time of tumultuous change. This volume presents readers with Pavese's major works. The Beach is a wry summertime comedy of sexual and romantic misunderstandings, while The House on the Hill is an extraordinary novel of war in which a teacher flees through a countryside that is both beautiful and convulsed with terror. Among Women Only tells of a fashion designer who enters the affluent world she has always dreamed of, only to find herself caught up in an eerie dance of destruction, and The Devil in the Hills is an engaging road novel about three young men roaming the hills in high summer who stumble on mysteries of love and death.
About the Author
---
Cesare Pavese (1908–1950) was born on his family's vacation farm in the country outside of Turin in northern Italy. He graduated from the University of Turin, where he wrote a thesis on Walt Whitman, beginning a continuing engagement with English-language literature that was to lead to his influential translations of Moby-Dick, A Portrait of the Artist as a Young Man, Three Lives, and Moll Flanders, among other works. Briefly exiled by the Fascist regime to Calabria in 1935, Pavese returned to Turin to work for the new publishing house of Giulio Einaudi, where he eventually became the editorial director. In 1936 he published a book of poems, Lavorare stanca (Hard Labor), and then turned to writing novels and short stories. Pavese won the Strega Prize for fiction, Italy's most prestigious award, for The Moon and the Bonfires in 1950. Later the same year, after a brief affair with an American actress, he committed suicide. Pavese's posthumous publications include his celebrated diaries, essays on American literature, and a second collection of poems, entitled Verrà la morte e avrà i tuoi occhi (Death Will Come and Will Have Your Eyes).

R.W. Flint translated, edited, and introduced The Selected Works of Cesare Pavese in 1968 and Marinetti: Selected Writings in 1971. He has contributed interviews, essays, translations, and reviews on Italian writers to various journals includingParnassus, Canto, and The Italian Quarterly. He lives in Cambridge, Massachusetts.
Praise For…
---
The translation is fluent, and each work bears the distinctive Pavesean coat of arms.
— Time

Pavese's nine short novels make up the most dense, dramatic and homogeneous narrative cycle of modern Italy, and are also…the richest in representing social ambiances, the human comedy, the chronicle of a society. But above all they are works of an extraordinary depth where one never stops finding new levels, new meanings…Each one of Pavese's novels revolves around a hidden theme, something unsaid which is the real thing he wants to say.
— Italo Calvino

Now there can be no excuse for not reading Pavese, one of the few essential novelists of the mid-twentieth century. The new translations and the introduction by R.W. Flint are admirable.
— Susan Sontag