The Equine Listenology Guide - Essential horsemanship, horse body language & behaviour, groundwork, in-hand exercises & riding lessons to develop soft (Paperback)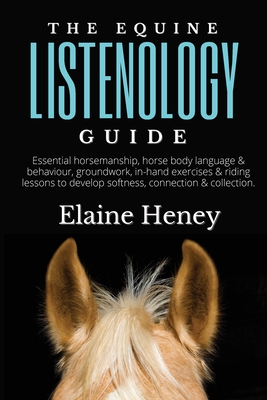 $16.99

Usually arrives at our store within 4-7 days
Description
---
*** Winner of the Best International Equine Non-Fiction Award at the EQUUS Film & Arts Fest 2022, California USA ***
Enjoy this 'Listening to the Horse' inspired equestrian book, packed full of stories, lessons, case studies and training exercises for you & your horse. This book is the first book in the Equine Listenology trilogy, which includes a companion workbook & journal. Perfect for both English & western riders. This Listenology guide also includes lots of in-hand, groundwork and riding homework for you to try out at home with your horse.
Book contents:
The Listening to the Horse documentary
14 Cornerstone principles of Listenology
Groundwork & in hand exercises
10 minute lessons and bad weather exercises
The #1 lead rope mistake to avoid
The no pull training exercise
Confidence training & ground work
Walking in hand with your horse
Herd bound and barn sour horses
Liberty work and partnership building
Dancing with Matilda & horsemanship
6 Benefits of polework exercises
Cavaletti training exercises
Sideways exercises & dressage
Lateral work & collection
How to start shoulder out
The Royal Stables in Cordoba, Spain
Which bitless bridle is right for my horse?
Does my saddle fit my horse?
The comfort zone riding exercise
How to use less rein cues
Riding one handed
The changing direction exercise
Posture & the still shoulders exercise
The lower back riding exercise
The Holy Grail of horse riding
Footfall sequence exercise
Fun with Cones
Fun with Polework
The Balance Bootcamp
Other books in this series: .
Equine Listenology workbook
Equine Listenology journal
Equine Listenology diary
Elaine Heney is the #1 best-selling author, award-winning film-maker, director of Grey Pony Films, and creator of the 'Listening to the Horse(TM)' documentary. She has helped over 120,000+ horse owners in 113 countries to create awesome relationships with their horses.
Elaine lives in Ireland with her horses Ozzie & Matilda. Discover Elaine's series of world renowned online groundwork, riding & training programs at Grey Pony Films