Triton's Treasure: Steps to Christ for Kids (Paperback)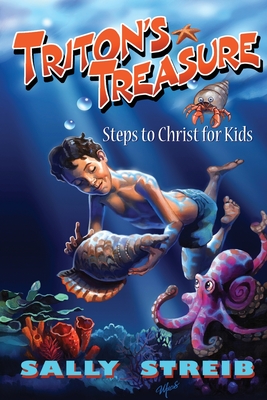 $15.95

Usually arrives at our store within 4-7 days
Description
---
**Updated 2021**
"The Triton Trumpet is one of your best creations," I whispered to God. "I just have to find a good specimen."
When author Sally Streib whispered this short prayer, she could hardly imagine that one day she would posses one of the largest Triton Trumpet sea shells ever found and uncover its hidden messages.
Discover how nature can bring you closer to your Creator. Triton's Treasure - Steps to Christ for Kids brings twenty new nature object lessons from author and storyteller Sally Streib. Each nature story is a real life adventure in which the author uncovers hidden messages written in nature by the Creator.

In these stories, you will learn how you can walk closer with your Creator, Jesus Christ. Patterned after the best selling Steps to Christ, by Ellen G. White, Triton's Treasure - Steps to Christ for Kids shows the easy steps anyone can take to get to know Christ as a Friend and Savior.
"Look at the wonderful and beautiful things of nature...all speak to us of the Creator's love." Steps to Christ, Ellen G. White. With each new discovery, in and around the ocean, nature will reveal the truth about God and His love for you.
Triton's Treasure - Steps to Christ for Kids combines Bible truths with nature object lessons and real life adventures to help you understand God's love for you.
How can dangerous ocean waves and lurking sharks show you your need for a Savior? How will a miracle rescue and recovered treasure help you understand the Gospel? What does a crab that can't swim and a storm tossed barnacle teach about choosing Jesus Christ as a personal friend and Savior?
In Triton's Treasure - Steps to Christ for Kids, you will learn what nature has to say about:
Our Need of a Savior
Understanding the Gospel
Choosing Jesus
Forgiveness
Receiving a New Heart
Building a Devotional Life
Sharing Jesus With Others
The Power of Prayer
Temptation
Walking with Jesus
About the Author
---
Sally Streib is the author of Treasures by the Sea, Octopus Encounter, Summer of the Shark, and Heart Mender. As a Master Storyteller, Sally travels the world teaching kids of all ages to know and love their Creator. She is the creator of the beloved spiritual emphasis program Kids Can Know God and author of The Girl God Rescued, published in Guide Magazine. Born and raised by the Pacific Ocean in Southern California, Sally has spent countless hours in and around the sea, collecting stories and messages from nature. "Each time I dive into the sea and snoop along the worlds beaches, God helps me discover new truths."