Nefesh: Poems (Paperback)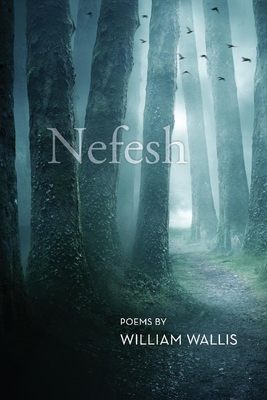 Description
---
Nefesh is soul, soul breath in the language of Hebrew, the language of our ancients. It is a word pointing towards that which is hard to name, yet felt and lived. We sing, pray, rest, celebrate this nefesh. There has always been a human longing to name the un-nameable, to enter into the realm of words to touch the experience of our souls. You can feel this longing in these poems Bill has created, though all the while the poet knows that the bigger Whole is just out of reach of our words. There is delight in his reaching, a delight that is alive in these poems.
Nefesh is also the name of our spiritual community. Bill and his wife Leslie have been an integral part of this community, helping it grow and become. The poems in the first section of his collection were penned by Bill in important moments of growth and transition for individuals within Nefesh and for our community as a whole. On our High Holy Days in the fall each year, Bill offers a poem connecting our ancient tradition to the calls of our contemporary moment and again and again to our deeper soul longings. The poems in the second section to his children evoke the deep love of a father and the never ending profound journey of parenting.
The poems in this collection invite each of us to enter into the realm of the infinite, the continuous movement with self and other and all that it opens us to.
Bill, may you continue to walk your days with a poet's heart and may you continue to share your nefesh with all of us.
Rabbi Susan Goldberg

It is important to note that section 1 of Nefesh, "Poems of Worship and Celebration," are poems in the style of Walt Whitman, i.e. poems meant to be read aloud. While ambitious in nature, they mean to be immediately accessible. The poems in part 2, "Patterns," are much more ambitious and scholarly: The first poem, "Reading," is a long, compassionate exploration of every Jewish parent's fear for their children considering the history of religious persecution in the 20th and 21st centuries. The second poem, "writing," explores the intellectual and spiritual balance that is necessary for meaningful exploration of the heights and depths of life. Part 3 explores domestic and neighborly atmospheres in Los Angeles, and seeks out emotional and spiritual meaning in every detail of life. Part 4 is a brief record of the spiritual interface between Judaism and Zen Buddhism, an overlap that has engaged so many Jewish spirits since World War II. Notable is the great variety of poetic forms, from epic to haiku, explored in Nefesh.
About the Author
---
About the Poet
William Wallis, a native of Florida, was educated at Hendrix College, Southern Illinois University (B.A., 1969), the University of Nebraska (Ph. D., 1972), and the Hanover Conservatory in Germany (1978-80). In 1973, while a member of the faculty at UN-L, he performed a supporting role in Robert Beadell's Napoleon, a grand opera he co-authored with Director Dean Tschetter. His text Hanblecheya, the Vision—based on Lakota (Sioux) myth, story, and song—was set to music by Richard Moore and performed as part of the American Bicentennial celebration. He directed a grant (1974-76) from the Ethnic Studies Division of the Department of Health, Education, and Welfare, that also allowed him to create educational materials entitled A Meeting of Cultures to accompany Hanblecheya.
A member of Actors Equity since 1975, Wallis has appeared in 40 professional productions in America and Germany. Between 1978 and 1985, he worked as a stage director and opera singer in several West German theaters and in Vienna, Austria. After 1985, he returned to the USA and taught at UN-L and UCSB before joining the Los Angeles Valley College Department of English permanently in 1988. He served as English Department Chairperson from 2015 till 2019, when he retired from the LACCD.
His seventh book of poetry, Joshua (1994), was nominated for the Pulitzer Prize, Poetry Division, as were his books Twins (1996) and Selected Poems, 1969-99 in 2000. He has written 20 volumes of verse and prose, including Selected Essays and an interdisciplinary study of opera entitled A Dream of Love Fulfilled. His first novel Hawk was awarded the Benjamin Franklin Award for Popular Fiction in 2006. Prairie Symphony, a biography of Charles Leonard Thiessen, and L.A., my Love (Stories and songs) followed in 2008 and 2012.
Dr. Wallis continues to write and teach in Los Angeles, while enjoying the company of his wife Leslie and their four children; and he looks forward to spoiling his future grandchildren. He is currently working on a quartet of novels and a series of epics for children entitled The Mousie Stories.