A Tale of Two Daddies (Hardcover)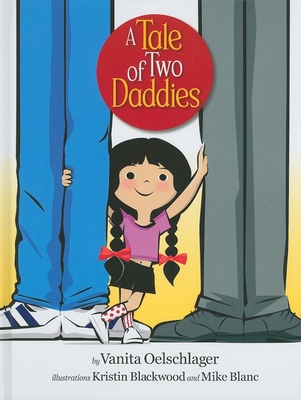 Description
---
A Tale of Two Daddies is a playground conversation between two children. The boy says he heard that the girl has two dads. The girl says that is right. She has Daddy and Poppa. True to a child's curiosity, practical questions follow. "Which dad helps when your team needs a coach? / Which dad cooks you eggs and toast?" To which she answers: "Daddy is my soccer coach. / Poppa cooks me eggs and toast."
A Tale of Two Daddies is intended for 4-8 year olds. It becomes clear that the family bond is unburdened by any cultural discomforts. This book introduces a type of family increasingly visible in our society. Neither favoring nor condemning, this book reflects a child's practical and innocent look at the adults who nurture and love her.
About the Author
---
Vanita Oelschlager is a wife, mother, grandmother, philanthropist, former teacher, current caregiver, author and poet. She is a graduate of Mt. Union College in Alliance, Ohio, where she currently serves as a Trustee. Vanita is also Writer in Residence for the Literacy Program at The University of Akron.Kristin Blackwood is an experienced illustrator. Some of her other books include My Grampy Can't Walk; Let Me Bee; Big Blue; Made In China; What Pet Will I Get?; Ivy in Bloom and Ivan's Great Fall. She uses a linoleum reduction technique for creating the illustrations for this story. Kristin lives in Lakewood, Ohio, with her two daughters.