Coyote Winds (Paperback)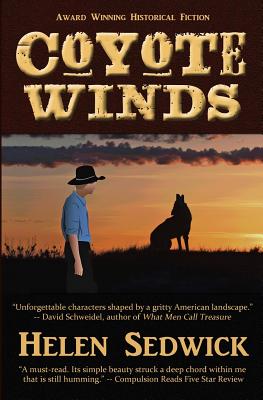 $10.49

Usually arrives at our store within 4-7 days
Description
---
This historical novel captures the times leading up to the Dust Bowl, a time of optimism and confidence, a time when a man was measured by what he produced, not what he could buy. It explores that American can-do spirit that drew people to the last frontier and the consequences of that spirit, both good and bad. And it asks whether that spirit has survived the Dust Bowl, the Great Depression, and the years since. Coyote Winds tells the story of the times before The Grapes of Wrath and offers a new perspective on American history in the 20th Century. Summary: When thirteen-year old Myles brings home a coyote pup half-blinded by a dust storm, his father warns him a coyote can't be trusted. His neighbor loads his rifle and takes aim. Yet Myles is determined to tame the pup just as his father is taming the land. The time is 1930. Tractors and fertilizers are transforming the southern prairie into the world's breadbasket. The American dream is within every man's reach. But when drought turns these dreams into paint-stripping, crop-killing dust, Myles wonders if they have made a mistake by trying to tame the untamable.
Seventy year later, when Andy remembers his Grandpa Myles's tales about growing up on the prairie, he wonders what stories he will tell when he has grandchildren. Algebra, soccer practice, computer games, a day at the mall? Determined to keep his grandfather's memories alive and have some adventures of his own, Andy heads out to discover what's left of the wild prairie. First Place for Young Adult Historical Fiction, Purple Dragonfly Book Awards 2013
Honorable Mention, Young Adult Fiction, 2013 Green Book Festival
Lexile Score HL (High Low) 690L What people are saying about COYOTE WINDS... "An engrossing account of hardscrabble life in Colorado at the dawning of the Dust Bowl era, as seen through the eyes of a wise-cracking 1920s farm boy, an injured coyote pup, and a disgruntled, 21st century teenager. The story transports readers to a bygone day when dreams died hard and indomitable spirits struggled to endure. " --David Schweidel, author of Confidence of the Heart and What Men Call Treasure "In this fresh, affectionate, and poignant novel, Sedwick brings to vivid life the story of two boys connecting across decades with plucky independence and unexpected courage. Pages turn like the Coyote Winds, unfolding a gritty tale of endurance, love, and a touch of magic that will hold young and old in its spell." --Joanne Meschery, author of Home and Away "Coyote Winds is engaging and provocative. The historical novel tells the story of the Great Depression and Dust Bowl in a way that encourages readers to think, and to want to know more. It helps us to understand both the harshness and the beauty of farm life on the southern Plains." --Pamela Riney-Kehrberg, History Professor and Chair, Iowa State University, author of Rooted in Dust and Always Plenty to Do, and contributor to Ken Burns' film, The Dust Bowl "Coyote Winds is a vivid and beautiful portrait of two very different worlds. Andy's modern day existence couldn't be more different than the wide open promise of Vona, CO that Myles and his family approach, but the stories merge brilliantly. Sedwick pens this story so well that I could see the Vincent farm, hear the chickens pecking at kernels and feel the coyote winds blowing across my face. " -- Compulsion Reads 5 Star Review and part of its Irresistible Collection. "Coyote Winds is an evocative novel that readers of all ages and backgrounds will enjoy." -- Midwest Book Review "There are days when I tire of being a reviewer, but then along comes a book like Coyote Winds that makes me feel excited about my role. Coyote Winds is a bittersweet story, full of sadness and hope...An excellent read." - Allison Hunter, Allison's Book Bag.