1, 2 Let's All Play: Music and Movement Activities for Children (Paperback)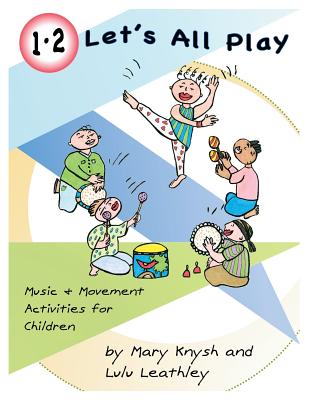 $24.95

Usually arrives at our store within 4-7 days
Description
---
1 - 2 Let's All Play is an engaging and user-friendly collection of music and movement activities designed for educators, facilitators, parents and anyone working with children. The accessible step-by-step activities in this book present strategies designed to enhance rhythmic skills, creativity and self-expression in children. It is our hope that this book will inspire those working with young children to rekindle their own sense of wonder and creativity while exploring the exciting world of music and movement.
Mary Knysh is a professional musician, recording artist, and international author. Mary is an Orff Schulwerk clinician and teaching artist for the Pennsylvania Council of the Arts, Young Audiences of NJ, and New York BOCES. She is endorsed by Rhythm Band Instruments and Remo corporations. Mary travels throughout the United States, Europe, and Asia offering drum circle facilitator trainings, performances, and workshops. Learn more at www.rhythmicconnections.com.
Lulu Leathley is a Village Music Circle Endorsed Facilitator, the recipient of three Hawaii Mentorships for Arthur Hull, the coordinator of three Facilitator Training Playshops in Canada, and the founder of Lulu Jam. Lulu builds on her experiences with children, welderlies, special populations, and corporate groups to introduce the wonders of rhythm for bringing people together. Learn more at www.lulujam.com.

Praise for 1 - 2 Let's All Play:
"What appears on the surface to be a children's rhythm game book, is, in actuality, a powerful tool that, when utilized, not only teaches young kids rhythmical and musical abilities and appreciation, but implants foundational experiences in children that will enhance their personal relationship abilities and self-esteem for the rest of their lives.
Being befriended and mentored over the years by both Lulu Leathley and Mary Knysh--each of them powerhouses of community rhythmical caregiving in their own right--I expect any book that they publish would be a wonderful addition to our mission of community rhythmical empowerment. In particular, the collaborative effort that they have put into 1 - 2 Let's All Play has created an extraordinarily "keep it simple" way to guide a group of children into the depths and bliss of interactive rhythmical expression.
In this book, 1 - 2 Let's All Play, Lulu and Mary have made rhythmical evangelism for children so easy, that even parents can do it.
Share your spirit with 1 - 2 Let's All Play."
--Arthur Hull, Rhythm Facilitation pioneer, motivational trainer, founder of Village Music Circles, and author of Drum Circle Facilitation and Drum Circle Spirit