Little Farm in the Foothills: A Boomer Couple's Search for the Slow Life (Paperback)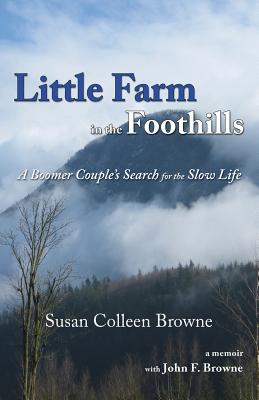 $14.00

Usually arrives at our store within 4-7 days
Description
---
When two Boomers flee the city for a slower, simpler, and more serene lifestyle, they discover that simplicity can get awfully complicated... and life becomes anything but serene.
In this award-winning, feel-good tale for gardeners, nature-lovers, and dreamers of all ages, Little Farm in the Foothills follows a midlife couple's pursuit of the "new" Great American Dream--living closer to the land--as they start growing their own organic food, living locally, and transforming an old clearcut into a little homestead.
When Susan and her husband John first came up with the idea of having a country place, they were settled into a comfortable and convenient home in the city, happily raising some vegetables and berries in the back yard. Being experienced gardeners, they figured that relocating would be no big deal--they'd expand the garden a little, have a bit more peace and quiet. So they bought 10 acres in the middle of the woods and prepared to pretty much transfer that comfortable town life to the new property.
But this modest plan becomes an adventure that is more life-changing than they could have ever imagined.
There was so much to this new life they never faced before--breaking ground by hand and wildlife predation of their first crops. Despite a tight budget and many roadblocks along the way, they must also cope with unexpected adversity like isolation, infrastructure failures, and extreme weather.
Little Farm in the Foothills is not a memoir about farming...it's a warmhearted story of making a dream come true. As Susan writes of their Foothills home, "it's not a farm, it's not even a 'farmette, ' but it's the dream of a farm."
A Washington State Library "Summer Reads" book selection:
"The Browne's foray into slower living in Whatcom County is an enjoyable read. Their delightful, yet very real, experiences in making the big leap toward their dreams make for a humorous and charming book." --Washington State Librarian Jan Walsh
"A delightful account." --The Bellingham Herald