Eclipse Miracle: The Sun is the Same Size as The Moon in The Sky (Paperback)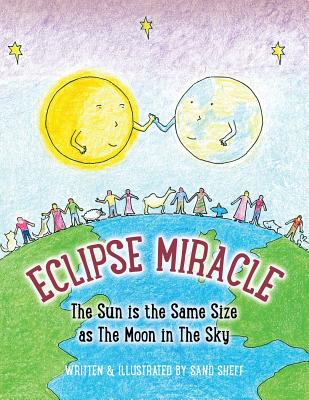 $14.95

Usually arrives at our store within 4-7 days
Description
---
Did you know that the Sun and the Moon appear the same size in the sky? That's because the Sun is 400 times bigger than the Moon, but also 400 times farther away. It's been called "the great coincidence," but is it really just coincidence? Learn secrets of the Sun and Moon, and get a front-row seat as they line up to show us the amazing eclipse miracle For all ages with 8 page science section.
"A wonderful book by Sand Sheff, with great scientific and spiritual content for all ages and backgrounds (with the very] occasional Bible verse being quoted alongside academic references). The message is powerful, the story is great, the science is 100% accurate, and the author has done a masterful job of mixing the scientific facts with the wonderment and special nature of total eclipses. The book is educational, enlightening, and uplifting in a way that is difficult to explain to someone who sees only the mathematics of the event. HIGHLY recommended -"--Dan McGlaun Eclipse 2017.org
It has to be one of the most beautifully presented stories for children It contains science for beginners, geography, God lessons and how to overcome fear...Everything " Dr.Katina Michael editor-in-chief IEEE Technology and Society Magazine
Eclipse Miracle takes the reader on a trip through the solar system and across the planet to offer an inspirational and informative take on the sun, moon, the earth and the phenomenon of solar eclipses.
There is an amazing, yet not widely known, cosmic arrangement visible from Earth. The Sun and the Moon appear the same size in the sky. This occurs because the Sun is both 400 times bigger than the Moon and also 400 times further away This is why we can have perfect solar eclipses like we do. Literally, the moon goes in front of the sun and covers it perfectly. People become excited when they reflect upon this truth, and children really think it's cool. The book credits God for this, but in a non-denominational inclusive way. It also has an 8 page science section in the back which older kids and adults like.
What makes this book different:
Eclipse Miracle focuses on the amazing truth of the sun/moon alignment.
The book is colorful and not dated "2017". It's message and story will continue to be fun and relevant after the eclipse.