The Wolf at the Door: Undue Influence and Elder Financial Abuse (Paperback)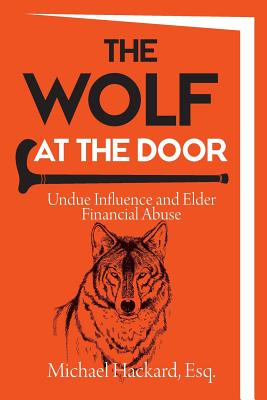 $11.99

Usually arrives at our store within 4-7 days
Description
---
In The Wolf at the Door, veteran California attorney and elder financial abuse writer Michael Hackard draws from forty years of legal experience to advise families, caregivers, and professionals who work with seniors what elder financial abuse is, how to identify it, and--most importantly--what to do if abuse is suspected. As the baby boomer generation rapidly ages into retirement, elder financial abuse threatens to become a national epidemic. If not addressed early and aggressively, this unique form of exploitation can tear families apart, leaving shattered relationships and depleted bank accounts in its wake. You may not be able to prevent elder financial abuse from happening, but The Wolf at the Door will empower you to fight back before it's too late.
Concise and chock-full of practical information, The Wolf at the Door is a must-have reference for anyone interested in learning about elder financial abuse and what can be done to combat it. The book is written for a general audience, and it offers case studies, research, and hard-won observations gleaned from a long career representing abuse victims and their loved ones. An index and compact sections make navigation easy, and dozens of endnotes direct readers to additional information about elder abuse, undue influence, estate planning and trusts, and more.
Michael Hackard is the founder of Hackard Law, a California law firm that focuses on estates and trusts litigation. Over the years, he has helped many victims of elder financial abuse, including trust beneficiaries, disinherited heirs, and relatives of family members. He practiced law for more than forty years before writing The Wolf at the Door and has an "AV Rating" from Martindale-Hubbell(R) Peer Review, signifying the highest level of professional excellence. He has been interviewed regularly by local and national media, including the Wall Street Journal, C-SPAN, and Fox News, and has testified before the House of Representatives. Learn more about Michael at www.hackardlaw.com/.
The net profits from the sale of each copy of The Wolf at the Door will be donated to the Alzheimer's Foundation of America.