Declutter Guide: How to Organize Your Life in 2 Weeks or Less (Paperback)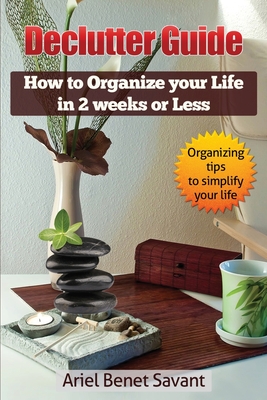 $11.99

Usually arrives at our store within 4-7 days
Description
---
Have you ever felt embarrassed to invite someone over because of your stuff? Don't get paralyzed by your clutter. You can break through the struggle and get rid of your clutter for good. If you are struggling in this area and want solutions that speak to you as you are guided through the maze of clutter you'll find this book useful.
Life's constant demands can be stressful and you may find that you have an emotional resistance to decluttering, however, the declutter expert and author Ariel Benet Savant can show you how to make progress, even when there is no time to declutter.
The Declutter Guide helps you discover the following:
Why you clutter
Breaking through your resistance to decluttering
Tackle each room systematically
Helping your family declutter
Decluttering through real-life challenges
How to avoid the digital clutter trap
How to take control of your finances
How to manage digital clutter
How to determine what you must keep, donate, or throw away
The author, Ariel Benet Savant knows that letting go of things that are personal and sentimental can be difficult. Clutter can re-appear, however decluttering can become easier and more natural once you follow the easy to follow steps. You will quickly find you can start enjoying a clean, organized, and clutter-free home or office that will make you feel proud.