Building Blocks of Tabletop Game Design: An Encyclopedia of Mechanisms (Hardcover)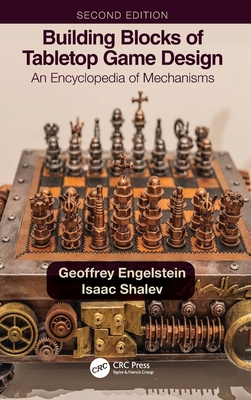 This item is not available.
Description
---
Building Blocks of Tabletop Game Design: An Encyclopedia of Mechanisms, Second Edition compiles hundreds of game mechanisms, organized by category. The book can be read cover to cover and used as a reference to solve a specific design problem or for inspiration and research on new designs. This second edition collects even more mechanisms, expands on and updates existing entries, and includes color images. Building Blocks is a great starting point for new designers, a handy guidebook for the experienced, and an ideal classroom reference.
Each Game Mechanisms Entry Contains:
The definition of the mechanism
An explanatory diagram of the mechanism
Discussion of how the mechanism is used in successful games
Considerations for implementing the mechanism in new designs
About the Author
---
Geoffrey Engelstein is a game designer and educator. His designs include the Space Cadets series, The Dragon & Flagon, The Expanse, and Super Skill Pinball. He has published several books on game design, including GameTek: The Math and Science of Gaming, Achievement Relocked and Game Production. He is on the faculty of the NYU Game Center as an adjunct professor for Board Game Design, and has been invited to speak about game design at PAX, GenCon, Metatopia, and the Game Developers Conference. Isaac Shalev is a game designer, author and educational games consultant. Isaac has designed tabletop titles including Seikatsu, Waddle, and Show & Tile. Isaac runs Sage70, Inc., a data strategy and games-based learning consultancy that serves nonprofit organizations. Isaac lives in Cary, NC with his wife, three children, and a dog.