The USA and Canada 2023 (Hardcover)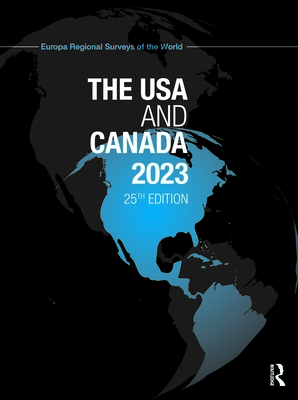 Description
---
Combining impartial analysis with reliable facts and figures, this fully revised and updated 24th edition provides up-to-date commentary on these vast North American nations.
General Survey
Essays by leading experts analyse topics of regional importance, including:
- US-Canadian integration, US foreign policy in the Arctic region, and the COVID-19 pandemic in North America.
Country Surveys
Each country is dealt with in greater detail within its own section. Country chapters include:
- a chronology of political events
- essays covering key socio-political and economic themes, including: recent political developments; foreign policy; constitution; the economy; energy policy; agriculture; trade; health and social policy
- additional essays examining timely subjects such as religion in US politics and the US Judicial system
- historical, political and economic surveys of each of the US states and Canadian provinces and territories
- statistical surveys of economic and demographic indicators
- comprehensive directory sections covering public affairs, the economy and society, which provide contact details and other useful information for the most significant institutions in the region.