Crypto Investing Mastery Bible: 7 BOOKS IN 1 - Cryptocurrency, Bitcoin, Ethereum, DeFi, NFTs, NFT Art and Collectibles, & Metaverse (Paperback)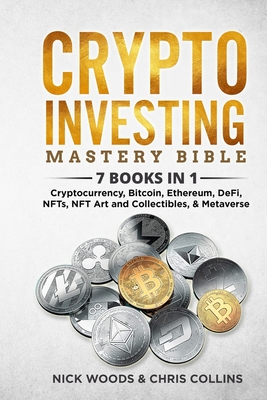 $49.47

Usually arrives at our store within 4-7 days
Description
---
Have you been hearing about Crypto, NFTs, and the Metaverse lately in the news and can't seem to wrap your head around what they are? Do you wonder how you can start investing in crypto but don't really know what it is and have hesitations around investing in something you don't understand? Do you wish you were able to understand cryptocurrency but are afraid that it is too complex and complicated? What if I told you could do all three, all at once?
If this sounds good, then keep reading
Cryptocurrencies are fascinating new-age decentralized currencies that are only available online and allow the user to be somewhat anonymous. With thousands of cryptocurrencies available, there is some serious growth potential.
This book bundle aims to give you a complete reference guide to investing right away.
Nick Woods' & Chris Collins' series is comprised into one all-encompassing bundle here with Crypto Investing Mastery Bible: 7 BOOKS IN 1 - Cryptocurrencies, Bitcoin, Ethereum, DeFi, Blockchain, Metaverse, NFTs, NFT Art and Collectibles.
Cryptocurrency for Beginners: Complete Crypto Investing Guide with Everything You Need to Know About Crypto and Altcoins Including Bitcoin, Ethereum, Dogecoin, Cardano, Solana, XRP, Binance, Polkadot, and More
The Most Popular Cryptocurrencies;
What Is In Store for the Future of Cryptocurrency;
Bitcoin for Beginners: An Introduction to Bitcoin, Blockchain and Cryptocurrency
Comparison of Bitcoin to Fiat currencies;
Bitcoin Background / History / Main Highlights;
How to Mine Bitcoin;
Ethereum for Beginners: The Complete Guide to Understanding Ethereum, Blockchain, Smart Contracts, ICOs, and Decentralized Apps
What Ethereum Is and Why It Is So Important;
How It Works and Why It's Different from Bitcoin;
How to Get Started Mining Ether;
Decentralized Finance (DeFi) for Beginners: DeFi and Blockchain, Borrow, Lend, Trade, Save & Invest in Peer to Peer Lending & Farming
What the Term Decentralized Finance Means;
How You Could Benefit From It;
DeFi Platform Services;
NFT World: The Worldwide Explosion of NFTs, Cryptoart, and the Metaverse, and How You Can Profit from this New and Exciting Investment
The Role of NFTs in Blockchains;
NFT Marketplaces;
The Future of NFTs;
NFT Art and Collectibles for Beginners: The Must Have Guide for Understanding Non Fungible Tokens (NFTs)
History and Emergence of NFTs;
The Non-Fungible Token Market;
Role of Art in NFTs;
Enter the Metaverse: NFT Games, Play-to-Earn, GameFi, and Blockchain Entertainment such as Axie Infinity, Decentraland, The Sandbox, Meta, Gala, Gods Unchained, Bloktopia, and More
How to Play Popular Metaverse Games;
Tips for Beginners when Playing NFT Games;
How to Earn Income with Play-to-Earn Game;
AND SO MUCH MORE
If you're ready to start understanding cryptocurrency and blockchain and learn how you can get involved in this groundbreaking opportunity - then look no further
What are you waiting for? Scroll up and hit BUY NOW to start today.