In Montparnasse: The Emergence of Surrealism in Paris, from Duchamp to Dalí (Paperback)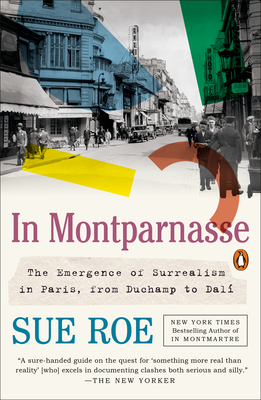 Description
---
"Describes with plenty of colour how surrealism, from Rene Magritte's bowler hats to Salvador Dali's watches, was born and developed." - The Times (UK)

As she did for the Modernists In Montmartre, noted art historian and biographer Sue Roe now tells the story of the Surrealists in Montparnasse.

In Montparnasse begins on the eve of the First World War and ends with the 1936 unveiling of Dalí's Lobster Telephone. As those extraordinary years unfolded, the Surrealists found ever more innovative ways of exploring the interior life, and asking new questions about how to define art. In Montparnasse recounts how this artistic revolution came to be amidst the salons and cafés of that vibrant neighborhood.

Sue Roe is both an incisive art critic of these pieces and a beguiling biographer with a fingertip feel for this compelling world. Beginning with Duchamp, Roe then takes us through the rise of the Dada movement, the birth of Surrealist photography with Man Ray, the creation of key works by Ernst, Cocteau, and others, through the arrival of Dalí. On canvas and in their readymades and other works these artists juxtaposed objects never before seen together to make the viewer marvel at the ordinary—and at the workings of the subconscious. We see both how this art came to be and how the artists of Montparnasse lived. Roe puts us with Gertrude Stein in her box seat at the opening of The Rite of Spring; with Duchamp as he installs his famous urinal; at a Cocteau theatrical with Picasso and Coco Chanel; with Breton at a session with Freud; and with Man Ray as he romances Kiki de Montparnasse. 

Stein said it best when she noted that the Surrealists still saw in the common ways of the 19th century, but they complicated things with the bold new vision of the 20th. Their words mark an enormously important watershed in the history of art—and they forever changed the way we all see the world.
About the Author
---
Sue Roe is the author of several books, including In Montmartre: Picasso, Matisse and the Birth of Modernist Art and a collective biography of the Impressionists. She lives in Brighton, England.
Praise For…
---
"Roe proves a sure-handed guide on the quest for 'something more real than reality' and excels in documenting clashes both serious and silly."—New Yorker

"Untangl[es] Surrealism's evolutionary history. In this undertaking [Roe] succeeds admirably, making sense of the by-turns anguished and playful chaos… In fixing on the emergence of Surrealism rather than its popular apotheosis in, say, the mature paintings of Dalí, René Magritte and Joan Miró, Ms. Roe leaves readers to draw their own visual conclusions. The expectation is reasonable and just as the artists themselves would have wanted. For the Surrealists' chief revolutionary legacy lies in the credit—and role—they gave to viewers."—The Wall Street Journal

"Roe is an elegant writer . . . [T]his entertaining, fast-paced history will thrill Francophones and art historians alike."—Publishers Weekly

"[Roe] renders with deftness and precision the strange and disturbing works surrealists produced by tapping into their emotions of 'terror, horror, disgust, or fear.' A thorough, well-informed survey of an art revolution."—Kirkus Reviews

"She vividly charts the birth of surrealism . . . a tale rich in absurdity and outlandish characters, from Cocteau and Max Ernst to Dalí and Picasso"—Dominic Sandbrook, Sunday Times (U.K.)
 
"Highly colourful . . . they're all here, the big names of the time - behaving badly, and, at times, quite madly too."—Observer (U.K.)
 
"Brings together some of the chief protagonists in one of the 20th century's most inventive art movements. A vivid read"—Radio Times (U.K.)

"Roe is a talented writer, fascinated by la vie Boheme . . . She can find phrases that perfectly capture the feeling of a neighborhood"—John Carey, Sunday Times (U.K.)

"I loved Roe's In Montmartre and [In Montparnasse]—a colorful, gossipy account of the birth of Surrealism . . . is equally beguiling." —The Bookseller, Editor's Choice (U.K.)

"Sue Roe describes with plenty of colour how surrealism was born and developed in Montparnasse . . . Roe marshals [the figures behind dada and surrealism] with great finesse"—The Times (U.K.)